Whether you want to remove cobwebs from the ceiling or need to extract older and greasy stains, pet hair, dust, and other particles from floors, a vacuum cleaner can be your one-stop solution. Vacuum cleaners have brought revolutionary changes to the world of cleaning appliances, saving time and effort. If you need a vacuum to clean carpets, upright vacuums are the best choice. If you want to clean under-bed surfaces, vacuums with low-profile designs or a robot vacuum would be the best choice.
Due to technological advancement, brands are launching different types of vacuum cleaners for your needs! In this post, we will enlighten you on the types of vacuum cleaners, their cleaning capacity on different surfaces, and how you can choose the best vacuum cleaner to achieve your desired cleaning goals. Let's start!
What Are The Different Types Of Vacuum Cleaners?
Upright Vacuum
Upright vacuum cleaners are the most traditional form of vacuum that is larger and heavier compared to other vacuums. Upright vacuums have powerful suction, often featuring lift-up technology for convenient cleaning sessions. With an upright vacuum cleaner, you can clean different surfaces, but its powerful suction is mostly sought-after for deeply embedded dust and grunge from carpets. Upright vacuums are mostly corded and bagless and often feature a larger dust cup capacity.
Pros
Durable and long-lasting
Tackle multiple surfaces
Comes with necessary attachments
Cons
Heavier than other models
Buy Upright Vacuum If:
Your floor surfaces are covered by carpets. Upright vacuums are designed with adjustable suction and motorized rotating brushes to pick up deeply embedded dust mites and microparticles.
Canister Vacuum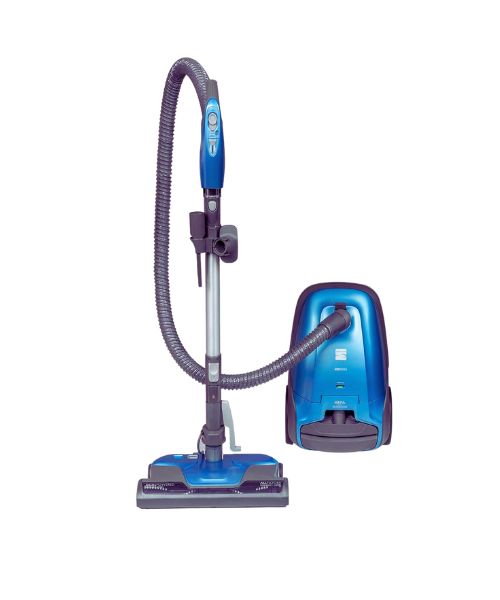 Canister vacuums, also called cylinder vacuums, are compact in shape and lightweight than upright vacuums. Canister vacuums are more lightweight than upright models and come with swiveling wheels so you can move from one place to another without any hassle. A canister vacuum can tackle dust and debris on multiple surfaces, but it's great for larger and commercial bare floors and stairs. Maximum canister vacuums are corded and can be bagged or bagless. Apart from cleaning stairs and floors, canister vacuums are great tools for cleaning nooks and crannies!
See Also: 7 Best Vacuum For Concrete Floors
Pros
Compact and lightweight
Cleans hard-to-reach areas
Easy to operate
Comes with the necessary cleaning tools
Cons
Difficult to store
Require frequent bend-down
Buy a Canister Vacuum If
You have multiple stairs in your home or business and need to clean bare floors frequently. If you need to cover larger surfaces with ease, choose a canister vacuum that comes with carry wheels.
Stick Vacuum
Stick vacuums are the most popular vacuums for regular use. Its broom-like stick is extremely lightweight to carry or vacuum on different surfaces with ease. Many stick vacuums in the market are convertible into handhelds that offer a versatile cleaning experience each time. Although stick vacuums are not as powerful as upright or high-end vacuums, they can remove fine dirt and debris, pet hair, and other pesky particles from hard floors, low-pile carpets, and upper furniture areas. These vacuums can be corded or cordless with standard dust cup capacity. Among good quality stick vacuums, you will find HEPA filtration systems to ensure an improved living environment.
Pros
Lightweight
Convertible
Easy to operate
Convenient to store
Cons
Cannot deep clean
Can be noisy
Buy Stick Vacuum If
You're looking for a lightweight, quick picker for hard floors, low-pile carpets, and area rugs. These vacuums are best for regular usage to upkeep your home environment.
Handheld Vacuum
Handheld vacuums are not full-sized vacuums, and you cannot use them as your primary cleaning tool. These vacuums are mostly used for secondary purposes, like cleaning small spaces, edges and corners, mattresses, pet beds, car seats, and such tight spaces. If you need to clean scattered cereals or similar items on your carpet or bed, a handheld vacuum is handy. Handheld vacuums are mostly cordless and bagged with smaller dust cup capacities.
See Also: Best Vacuum For Couches
Pros
Super lightweight
Effortless maneuvering
Best for nook and crannies
Can clean car
Useful as a secondary vac
Cons
Small dust cup
Not suitable for a larger area
Buy a Handheld Vacuum If
You need a cleaning tool for instant cleaning. Besides, if you have multiple pets in your home or your kids frequently create messes on beds or on sofas, a handheld vacuum can be a great addition to your cleaning appliances.
Robot Vacuum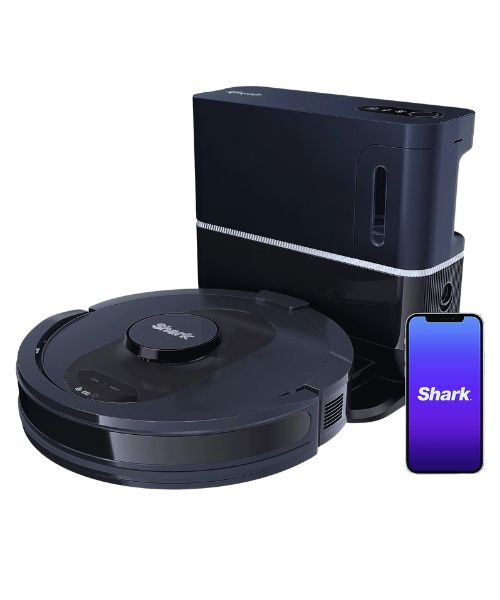 Robot vacuums are smart cleaning devices that offer hands-free cleaning sessions. Robot vacs are equipped with advanced technology such as schedule cleaning, automated cleaning based on floor maps, anti-dropping sensors, self-emptying, and many more. Unlike traditional models, good-quality robot vacuums hold a pricier spot in the market. One thing to note is that robot vacuums can only clean floor surfaces but not upper areas. Compared to regular vacuums like stick or upright, robot vacuums are cordless and can run up to 3 hours.
See Also: Best Robot Vacuum For Vinyl Plank Floors
Pros
Effortless yet effective cleaning
Great for regular vacuuming
Loaded automated features
Best for hard floors and under-furniture areas
Cons
Cannot clean stairs
Expensive
Buy A Robot Vacuum If:
You have to maintain a busy schedule and require automated cleaning solutions. Robot vacuums are meant for hands-free cleaning sessions with scheduled cleaning and self-emptying capacity.
Sweeper Vacuum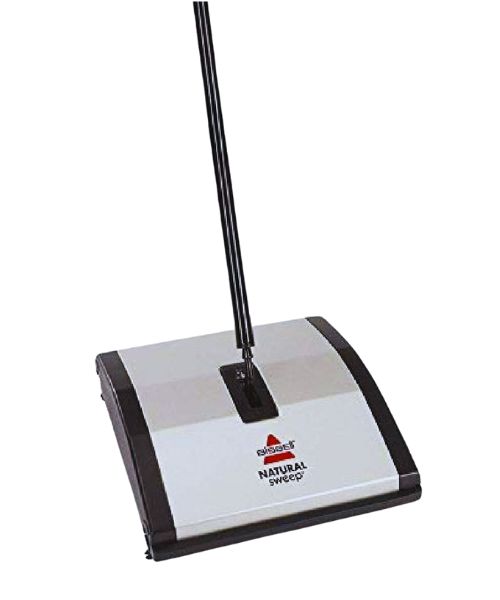 Sweeper vacuums are used for mopping bare floors, like tiles and hardwood floors. These vacuums look like stick vacuums, but a sweeper vacuum cannot pick up dust and debris. Before you use a sweeper vacuum, you have to broom or vacuum to remove loose dirt and particles on the way so that these elements cannot hinder the sweeping process.
Pros
Super lightweight
Affordable
Saves time and effort
Easy to store
Cons
Not durable like other vacuums
Buy a Sweeper Vacuum If
You do not want to sweep your home manually. A sweeper vacuum can save your time and effort and also provide better results.
Wet and Dry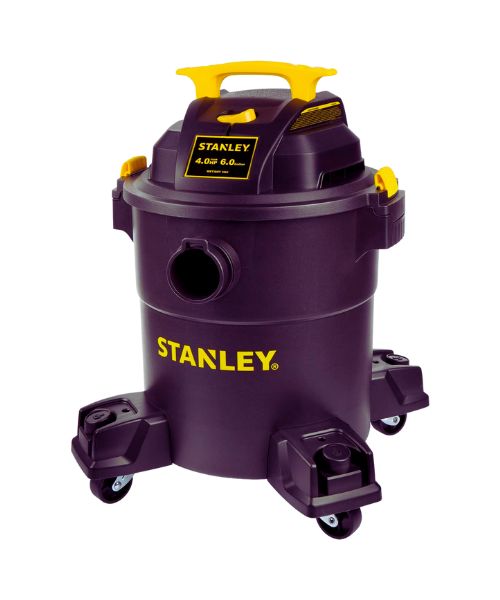 Wet and dry vacuums are high-end cleaning machines. Wet and dry vacuums, also known as shop vacs, offer an all-in-one solution as such vacuums can tackle fine dirt and wet messes simultaneously. These vacuums are heavy and mostly used for commercial purposes. You can also use wet and dry vacuums that are designed for household cleaning, but unlike other regular household vacuums, wet and dry vacs can be a little bit noisy for home use. Wet and dry vacuums are found in both corded and cordless models with higher suction power and larger dust cup capacity.
Pros
High-end and versatile
Can be used commercially
Larger capacity
Deep cleans
Cons
Tricky maintenance
Heavier and bulkier
Buy a Wet and Dry Vacuum If
You need to tackle wet and dry dirt simultaneously. Along with tackling regular wet and dry messes, many high-end vacuums of this type are designed to extract excessive water flooding on the floor.
BackPack Vacuum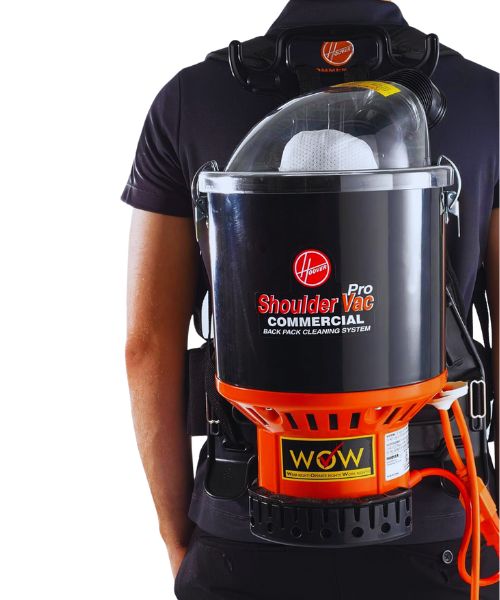 A backpack vacuum is a portable vacuum cleaner. You can wear this vacuum on your back, just like a bag pack, for increased mobility while vacuuming. Backpack vacuums are manufactured with powerful suction power for efficiently vacuuming large areas. Such vacuums are intended for commercial and industrial settings, as well as suitable for professional cleaners.
Pros
Higher suction capacity
Disinfects nooks and crannies
Easy to operate
Less noisy
Cons
Expensive
Smaller dust cup
Buy Bag Pack Vacuum If
You have a larger area to clean. Backpack vacuums provide superior maneuverability and ease up vacuuming sessions.
Central Vacuum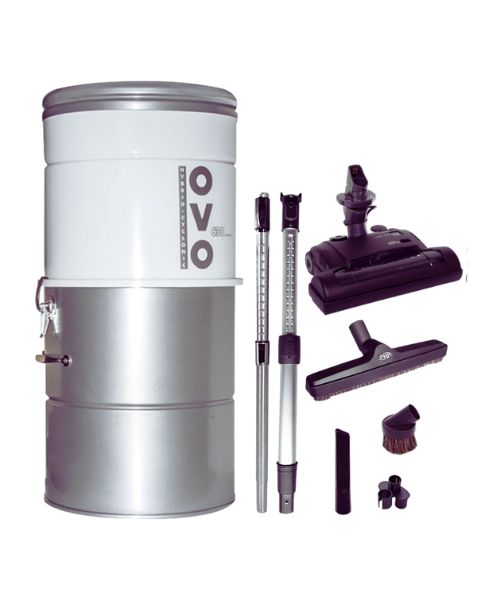 A central vacuum system is a built-in vacuuming system installed both in residential and commercial areas. These types of vacuums are usually installed in a utility room or garage, connecting to a powerful central unit and concealed pipes that can cover and run across the building. You can attach hoses and other attachments to achieve your desired cleaning states.
Pros
Powerful cleaning capacity
Convenient operating
Can cover a larger area at a time
Heavy duty
Cons
Installation is a hassle
Costly maintenance
Install a central vacuum system If:
You need to improve the air quality of your living area. This vacuum system is especially effective for patients with allergies or other respiratory issues.
How to Choose The Best Vacuum Cleaner?
All types of vacuums are either bagged or bagless, corded or cordless, and come with HEPA or Non-HEPA filtration systems. Let's take a tour of the core benefits of these distinctive vacuums and decide which design is best for your needs:
Bagged and Bagless Vacuum
Bagged vacuums have replaceable dust bags. Once the dust bag is full, you have to replace the bag with a new one. It means a bagged vacuum doesn't require manual dirt disposal. You can use a dust bag for approximately 2.5 to 3 months. However, this estimation can vary based on the regular traffic in your home. Cleaning experts often recommend using bagged vacuums, especially if you're prone to allergies, have any respiratory problems, or don't like manual dirt disposal and dust cup cleaning.
On the other hand, a bagless vacuum is for everyone, especially those who opt for affordability! Bagless vacuum cleaners feature reusable dust cups that you can rinse or wipe after each cleaning session. Unlike bagged vacuums, bagless vacuums don't require frequent replacements until the dust cup is damaged. Bagless vacuums require regular maintenance to get the desired cleaning results.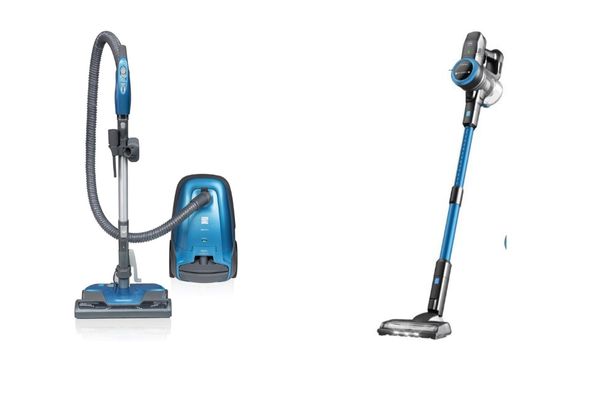 Corded and Cordless
Corded vacuum cleaners require constant power supply from a plug-in station. Depending on the models and brands, the cord length of a wired vacuum cleaner can range from 14 ft up to 40 ft and more. If you live in an apartment, then a 14 to 20-ft cord length is enough to vacuum one room at a time. If you need powerful suction power for a long time, then a corded vacuum cleaner is the ideal selection for your needs.
On the other hand, cordless vacuums operate via battery, and the battery run time can vary between 6 minutes to 3 hours (including robot vacuums). The recharging time of cordless vacuums usually takes 3 to 6 hours. However, cordless vacs run for a longer duration at a lower speed. When you use the max speed, maximum batteries will go down within 15 minutes. In general, the average run time of a cordless vacuum is around 44 minutes up to 3 hours at lower suction speed and 6 minutes up to 20 minutes at max speed. If you don't like tangling with cords while vacuuming or need to vacuum multiple rooms and surfaces at a time, then grab the convenience of cordless vacuums1. From larger areas to multiple surface vacuuming, cordless vacs ensure optimal cleaning performance with ease.
HEPA And Non-HEPA Filters
HEPA filters ensure higher efficiency while vacuuming particulates from different surfaces, which is more effective than non-HEPA filters. HEPA filters trap particles up to 0.3 microns and never let any particles return to the air while the vacuum exhausts. This advanced filtration system also prevents clogging inside the machine, which is significant for patients with allergies or asthma. Use a vacuum with a HEPA filtration system if you have any respiratory issues. Some vacuums are designed with hospital-grade HEPA filters for sensitive people to make their cleaning sessions harmless.
On the flip side, vacuums with non-HEPA filters often fail to trap or might leave microorganisms. If you have no respiratory issues, or you're not prone to allergens and asthma, you can use vacuums with either filtration system.
Adjustable Settings and Attachments
Many vacuums are designed for multiple surface cleaning, and such vacuums are equipped with adjustable floor settings and suction power. If you need to clean multiple surfaces with one vacuum cleaner, choose the vacuum that has the necessary attachments (crevice tools, compatible brush heads, pet hair removers, extra filters, dust cups, etc.) and adequate suction power. If your vacuum doesn't include any important attachments, you can purchase them separately. While dealing with delicate surfaces, like bare floors or soft carpets, keep the settings lower and at least an inch above the surface to avoid potential wear and tear.
Note: You can find different surface-specific vacuum cleaners such as vacuum for carpets, tile floors, bare floors, upholstery, etc.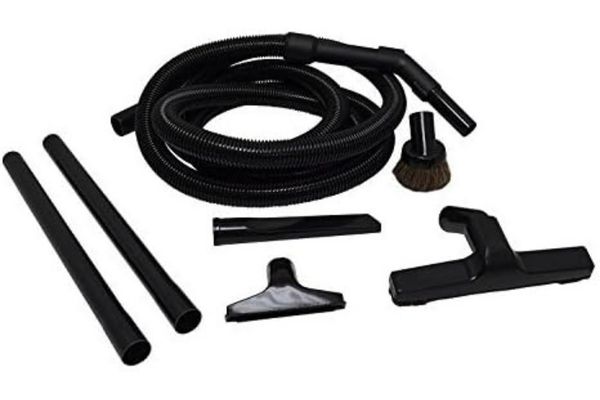 How to Use a Vacuum Cleaner?
Vacuum cleaners are versatile, featuring different operating methods. Corded vacuums need to be plugged in as long as you vacuum. For cordless vacuum, the scenario is not the same. Regardless of all these differences, here is how to operate a vacuum cleaner step-by-step, except the robot vacuums:
Step 1: Remove fine loose particles and any other items from the way.
Step 2: Attach recommended nozzle, like compatible floor heads for bare floors, carpet, crevice tool for edges and corners, and pet cleaning tool for removing pet hair.
Step 3: Adjust the suction power properly. For bare floors and low pile carpet, keep the suction setting lower. For deep cleaning or removing older stains, use the max power setting.
Step 4: Turn on the machine and gently vacuum your surfaces. Move the machine back and forth across the surface.
Step 5: Clean the vacuum dust cup and filter to keep the machine unclogged and ready for the next cleaning session.
How To Use A Robot Vac?
Robot vacuums don't function like regular vacuums. You can either integrate the vac with your smartphone via the app or control it manually. However, the way you control the vacuum, be aware of keeping the charging base on a flat surface so that the bot can return to the base to get recharged when needed. Here are some common steps that you must follow while using a robot vac:
Step 1: Ensure the vacuum is fully charged.
Step 2: If the bot has a virtual mapping feature, set the virtual wall for the vacuum to prevent entering any room/area.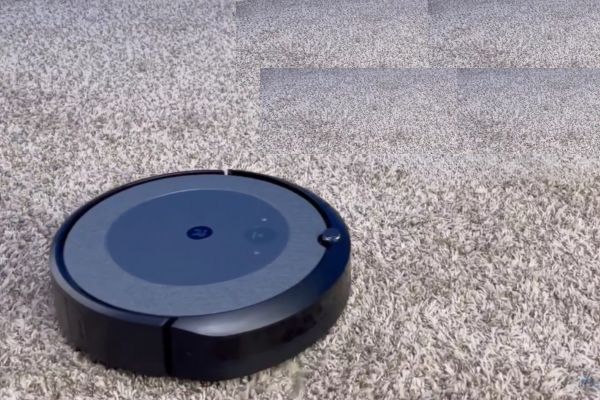 Step 3: Select the cleaning pattern of your room. If there is no cleaning pattern to set, the vacuum will explore randomly across the surface.
Step 4: Remove the clutter from the cleaning path (if there is any).
Step 5: Integrate the robot vacuum with your smartphone and command it to start vacuuming. You can also press the start button manually (if needed).
Step 6: After each session, clean the dust cup, brush roll, and other removable parts to ensure proper maintenance.
How Does a Vacuum Cleaner Work?
When a vacuum is turned on, its motor starts driving the fan. As the fan blades start circulating with speed, the air stream enters into the vacuum and exhausts accordingly. Such airflow (suction power) over the surface agitates dirt, hair, and other debris and extracts particles from different surfaces. Some vacuums feature exhaust filters so that no dust particles can get released into the air during the airflow circulation.
Final Words
Vacuum cleaners are more convenient and smarter than manual cleaning. The optimal cleaning performance of a vacuum cleaner upkeeps your cozy abode with minimal effort and saves time. A good-quality stick vacuum is best for regular vacuuming, like cleaning carpets, floors, and stairs. However, if you need to deep clean your carpet, choose the best upright vacuum cleaner. For small areas like mattresses, upholstery, car seats, and other nooks and crannies vacuuming, we recommend using compatible handheld vacuums to maximize cleaning efficiency. Whatever your need be, there is no alternative to choosing the right type of vac for an effective cleaning solution every time.