Dyson and Oreck stand at the forefront of the vacuum industry for producing top-of-the-line and efficient vacuums to keep residential and commercial areas free from dust, germs, and pesky particles. Dyson is a premium vacuum brand that reflects sleek British ingenuity with its powerful suction. On the other hand, Oreck is an American brand well known for its durable, lightweight, and easy-to-use vacuums. Dyson mostly manufactures high-quality bagless vacuum cleaners of various models, including stick, upright, canister, handheld, and robot, whereas Oreck crafts are lightweight and plug-and-play bagged upright vacuum cleaners. Both the Dyson and Oreck vacuum can clean smaller to larger areas, but which one is best for you? If you're in a dilemma between Dyson and Oreck, step into the ring with us to unravel the uniqueness of Dyson and Oreck so that you can easily decide which brand is a perfect fit for your cleaning needs. Let's dive deep into the details!
See Also: Moosoo Vs Dyson
Dyson Vs Oreck: Brand Comparison
Dyson Review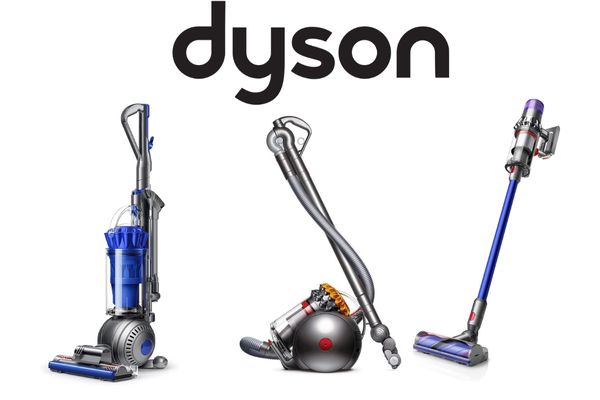 Dyson is a UK-based vacuum manufacturer that offers a diverse range of efficient and futuristic vacuum cleaners intended to achieve your desired cleaning result as much as possible. Dyson is reputed for producing premium, high-quality, and durable vacuums that can typically last for approximately 5 to 10 years in appropriate hands! Some high-end models like the Dyson V15 are designed with integrated laser light that kills hidden germs embedded in the depth of your surfaces. Besides, the smart Dyson vacuums often feature LED displays that show the cleaning status of the vacuum.
Dyson is the first to introduce bagless vacuum cleaners to revolutionize the vacuum realm. The best thing about those vacuums is that they reduce additional bag replacement costs for users. In addition, this high-end vacuum manufacturer also sells top-notch corded/upright, cordless, and wet and dry vacuums like Dyson v12s detect slim submarine and advanced robot vacuums. Due to superior build quality, advanced features, and powerful suction, Dyson vacuums hold a pricier spot than competitors. One thing we love about the Dyson brand is they offer necessary attachments such as crevice tools, advanced cleaning heads, brush tools, and pet-special tools with each purchase. If you're looking for a versatile and high-end household vacuum, Dyson models will serve your desired cleaning results.
Advantages and Disadvantages of Dyson Vacuum Cleaners
Advantages:
Powerful Suction For Superior Cleaning: Dyson vacuums are designed with powerful cyclonic technology to create strong and fade-free suction power, which is highly efficient in removing dirt and debris from multiple surfaces.
Longer Run-time and Cord Length For Ease of Use: Dyson manufactures high-end cordless stick vacuums that can operate for up to one hour. The brand also produces top-tier corded upright vacuums featuring approximately 40-ft longer cords to cover a larger area vacuuming at a time.
Bagless Design For Cost-Effective Vacuuming: Dyson introduced bagless vacuum cleaners in the market that are reusable as well as cost-effective. Most Dyson models are bagless, featuring rinsable dust cups that are easy to dispose of in the trash can.
Effective Filtration For Improved Air Quality: Many Dyson vacuums, including the Dyson Ball MultiFloor Upright Vacuum, are equipped with HEPA filters. These filters can capture allergens and microscopic dust particles, ensuring no leakage in the air. Such filtration systems improve the air quality of your living environment and make it safer for allergy sufferers.
Versatile Attachments to Tackle Multiple Surfaces: Maximum Dyson vacuums come with an array of necessary cleaning attachments and tools, including crevice tools, advanced cleaning heads, brush tools, and pet-special tools to upkeep the pristine elegance of your home and office.
Disadvantages:
Cost: Compared to some other brands, Dyson vacuums tend to be more expensive due to their highly efficient build quality and integrated advanced technology.
Weight: Dyson uses heavy-duty materials to hold its authentic top-notch build quality. As a result, Dyson vacuums can be 2/3 lbs. heavier compared to ordinary vacuums available in the market.
Noisy Operation: Dyson vacuums are not whisper-quite. These vacuums emit approximately 78 dB+/-, which might be a concern for those who prefer quiet cleaning equipment.
Oreck Review
Oreck has a collection of some easy-to-use household vacuums, but the brand is well known for producing professional-grade yet lightweight vacuums. This USA-based vacuum brand offers cost-effective vacuum cleaners with superior cleaning capacity, longer power cords, and a minimum of three-month lasting vacuum bag (based on dirt) to tackle larger areas. Oreck vacuums are mostly bagged upright and feature easy-to-use, above-average cord length (35 ft long approx.) and effective HEPA filtration systems for improved air quality.
Regular upright vacuums are usually heavyweight, ranging from 15 to 20 lbs. However, compared to regular upright vacuums, Oreck uprights, like the Oreck XL Commercial and Oreck HEPA Bagged Upright Vacuum, are very lightweight, less than 10 lbs. Apart from lightweight upright vacuums, Oreck also has a limited number of handheld canister vacuums (bagged) to tackle your household needs. Oreck vacuums, either upright or handheld canister, have higher suction power and extra-large dust cup capacity than other premium vacuums! However, due to higher suction power, Oreck vacuums can be louder than other models. If you need to vacuum larger commercial and high-traffic areas, then Oreck stands at the forefront of other brands.
Advantages and Disadvantages of Oreck Vacuum Cleaners
Advantages:
Affordable and Lightweight Upright Vacuums: Oreck upright vacuums are lightweight, fully functional, and easy to operate for multiple surface vacuuming.
Cost-Effective and Durable: Oreck vacuums have a reputation for their rugged durability and user-friendly design. They are often described as "no-frills" vacuums that get the job done, especially when it comes to larger area vacuuming. Compared to other high-end vacuums, Oreck is cost-effective and provides the best value for money.
Tackle High-Traffic Areas: Oreck upright vacuums have powerful suction, longer cord length, and larger dust cup capacity. If your model is a bagged one, you can conveniently use it for approximately three months. Due to such huge capacity, Oreck vacuums are often used in commercial and high-traffic settings, like hotels.
Cleans Multiple Surfaces: Oreck vacuums can tackle multiple surfaces, from bare floors and low-pile carpets to above-floor surfaces. So, you can use Oreck both in commercial and residential settings.
Effective HEPA Filtration System: The best Oreck vacuum cleaners come with an anti-allergen HEPA filtration system, which can help trap allergens and improve indoor air quality.
Disadvantages:
Not Thick Carpet-Friendly: While Oreck vacuums perform well on bare floors and low-pile rugged areas, these vacs are not equally effective on thick or high-pile carpets.
Emit Louder Noise: Oreck vacuums are often loud during operation, emitting 80 dB+/-, which can create a certain inconvenience for users who prefer quieter cleaning equipment.
Dyson Vs Oreck: Similarities
Powerful Suction
Clean Multiple Surface
Both are fine-dirt compatible
Both have commercial-grade vacuums
Both have HEPA filtration systems
Manufactures corded upright and stick vacs
Effective filtration system
Emit louder noise
Dyson Vs Oreck: Dissimilarities
Most Dyson vacuums are bagless, which means you can reuse the dust cup after each cleaning session. On the other hand, maximum Oreck vacuums are bagged and are not reusable; you must replace the dust bag once it's full. Dyson vacuums might have less recurring cost since these vacs are mostly bagless. Whereas Oreck bagged vacuums recur bag replacement costs.
Dyson vacuums are of various models like cordless stick, convertible, handheld, upright, and robot. However, Oreck vacuums are mostly upright, along with a limited production of cordless sticks and handheld canisters.
Dyson and other upright vacuums are heavy weight and not suitable for all users, especially seniors with arthritis and back pain issues. In contrast, Oreck upright vacuums are very lightweight and convenient for all types of users.
Dyson vacuums are more costly than Oreck vacuums. Typically, Dyson vacuums have above-average price ranges from $400 to $1635, whereas the top-rated options of Oreck cost from $123 to $600.
Final Words
Dyson and Oreck- both brands are wildly popular in houses and businesses for their highly efficient cleaning capacity. However, users opt for Dyson because these vacuums have household convenience, such as most Dyson vacuums are cordless, bagless, and effective filtration systems. On the other hand, Oreck is mostly prominent for vacuuming larger areas with higher capacity, like commercial-grade suction, cord length, and extra-large dust compartments. Whether you use a premium vacuum or an affordable one, you must maintain the care instructions of your vacuum to get an improved living environment.