Any reputed brand vacuum cleaner can clean your surface, but vacuum comes in different categories such as stick, upright, canister, robot, etc. Does all the brand is good for every vacuum type? For example, Dyson is well known for manufacturing high-end bagless vacuums, while Miele has a superior collection of premium bagged canister vacuums. Some brands are good at producing the best household vacuum, while some are good at serving commercial purposes. So you don't fall short under brand claims, and to help you buy the best vacuum, we've curated a list of the top 9 vacuum cleaner brands based on the vacuum category they produce. All the vacuum brands on our list are tested by experts and trusted by millions of users. So, let's kick off!
Best Vacuum Cleaner Brands
Dyson: Best for Bagless Vacuums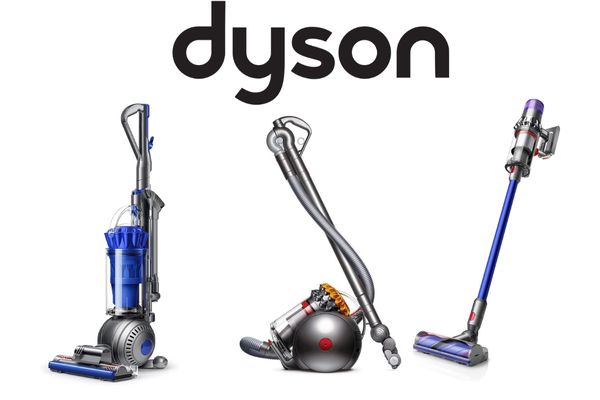 Dyson is a UK-based manufacturer founded in 1991. Since its foundation, the brand has been maintaining its robust quality standards and remaining consistent with upgrades and innovations. Typically, Dyson vacuums can last 5 to 10 years with proper maintenance!
The brand first introduced bagless vacuum cleaners in the market, with washable and reusable dust cups. With a Dyson vacuum cleaner, including the Dyson V8 Absolute and Dyson Outsize, you can stay on top of your regular cleaning chores. These vacuums are bagless cordless, and feature cyclonic filtration systems with powerful suction. Besides manufacturing bagless vacuums, the brand also sells premium cordless, corded, and upright vacuum cleaners to serve your surface and dirt-specific cleaning needs.  
Pros
Long-lasting
Superior suction
Longer battery life
Larger dust cup
Includes necessary attachments
Cons
Miele: Best for Bagged Canister Vacuums
Miele is a German-based traditional manufacturer founded in 1899. The company first released its vacuum cleaner in 1927, and since then, it's been recognized as one of the best vacuum cleaner brands in five continents due to producing durable, high-quality bagged canister vacuums. Many of these high-quality vacuums are designed with HEPA filtration systems, which are very effective for users with respiratory issues like asthma. Besides, you can replace a non-HEPA filter with a compatible HEPA system (sold separately).
Although Miele is widely popular for its high-quality bagged canister vacuums like Miele Complete c3, you'll find corded and cordless stick vacuums and bagless vacuums that are a little bit pricier than other regular vacuums on the market. The brand manufactures some affordable robot vacuums ranging from $498-$886.
Pros
Robust and lightweight
Powerful suction
Long-lasting motor
Advanced filtration
Excellent dust collection capacity
Cons
Doesn't offer low-budget vacs
Additional bag replacement cost
Tineco: Best For Cordless Vacuums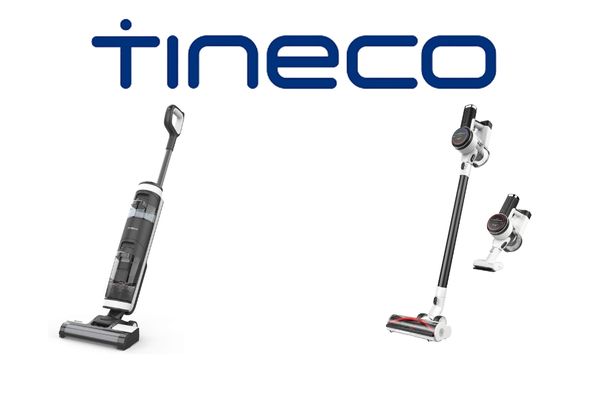 Tineco is a Chinese vacuum manufacturer founded in 1998, and within a very short time, the brand has become very popular and outspreading over 20 countries, including the USA. Tineco is widely popular for its smart cordless upright and stick vacuum cleaners. Apart from regular upright vacs, the company also manufactures wet & dry upright and stick models for versatile cleaning needs. Tineco's high-end smart vacuums, like the Tineco Pure One S12 series, are designed with an iLoop Dust Sensor, LED display, and an integrated app that ensures proper cleanup and allows remote control for added convenience.
Tineco vacuum cleaners are lightweight and easy to operate. Most of its vacs feature 4-stage fully sealed HEPA filtration systems that ensure no particle leakage in the air, improving your living environment. What we most like about Tineco vacuums is that each of the vacuums comes with various necessary attachments to ensure optimal cleaning of different surfaces.
Pros
Smart features integrated
Lightweight and easy to use
HEPA filtration system
Longer battery power
Cons
Can be noisy
Limited affordable options
iRobot: Best for Robot Vacuum
Robot vacuums have brought a revolutionary change in the world of vacuum cleaners, taking the ease of cleaning to the next level. iRobot stands out as the best robot vacuum cleaner brand among the other manufacturers and gives tough competition to brands like Roborock and Eufy. The brand was founded in 1990, and it released its top-of-the-line series, Roomba, at the beginning of 2002.
irobot manufactures affordable robot vacuums with basic cleaning perks, like the Roomba 694, featuring multiple surface cleaning capacities and schedule cleaning. The brand also sells high-end premium models, like the Roomba j7+, with advanced features such as mapping, self-emptying, and anti-dropping sensors. Apart from producing single robot vacs, the company also offers combo packages to ease up your cleaning chores.   
Pros
Affordable
Efficient performance
Schedule cleaning
Anti-drop sensors
Easy to maintain
Cons
Not all models have a mapping sensor
Not all models have self-emptying capacity
Shark: Best For Affordable Vacuums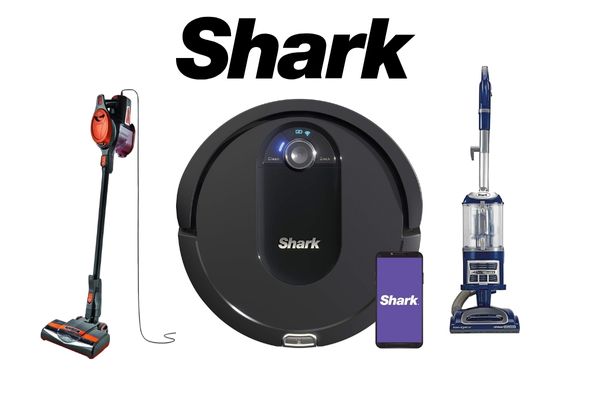 If you're exploring the best vacuum brands, then we're pretty sure that you've already seen Shark everywhere. The brand is massively popular not only for its superior cleaning capacity but also for its affordability. Unlike premium brands, Shark manufactures more products with a competitive price range, maintaining a near-to-similar cleaning capacity to a highly-priced vacuum. If you research a little bit more, you'll find the popular debate on Shark vs. Dyson. The brand was founded in 2007, and it has quickly achieved the trust of customers by providing real value at a wallet-friendly budget.
We are impressed by the upright models of Shark's Navigator series that are powerful, clean quickly, and have lift-away features for optimal cleaning performance on multiple surfaces. If you search for the best upright vacuum cleaners, you must find two or more Shark vacuums listed everywhere. Apart from upright vacs, the brand also manufactures a diverse array of vacuum cleaners, including handheld and, wet and dry.
Pros
Affordable
Various adjustable settings
Lightweight and convertible
Can tackle the wet and dry mess
Cons
Average build quality
Can be noisy
Bissell: Best for Pet Owners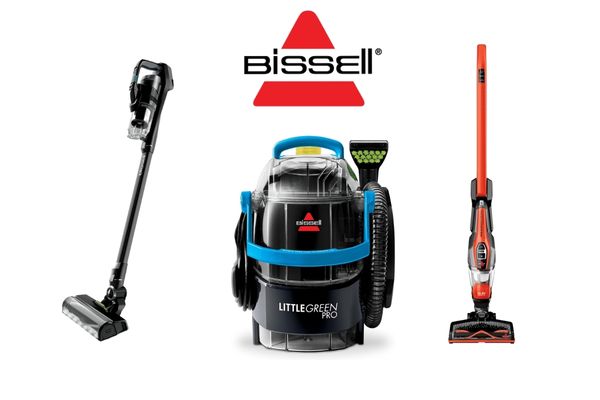 Bissell is a USA-based vacuum cleaner and floor care product manufacturing company founded in 1876. The brand has been serving to keep homes spotless for nearly 150 years. Bissell vacuum cleaners are best for carpet cleaning, especially extracting pet hair. These vacs can also tackle other fine dirt like cereals, rice, and similar items scattered on the bare floors, carpets, or upholstery. Many Bissell vacuums come with specialized cleaning tools, like a pet hair removal brush, tough stain tool, deep stain tool, and spot and stain formula so that you can complete vacuuming multiple surfaces.
Apart from producing pet-specialized vacuum cleaners, Bissell offers some efficient household solutions like the Little Green Pro Portable Carpet & Upholstery Cleaner. The vacuum has a 20-ft long power cord, 96 OZ clean tank capacity, and can tackle tough and deep stains with its included Deep Clean formulas.
Pros
Pet-friendly cleaning
Diverse product range
Efficient cleaning
Easy to maintain
Cons
Not all models are equally durable
Can be noisy
Black+Decker: Best for Handheld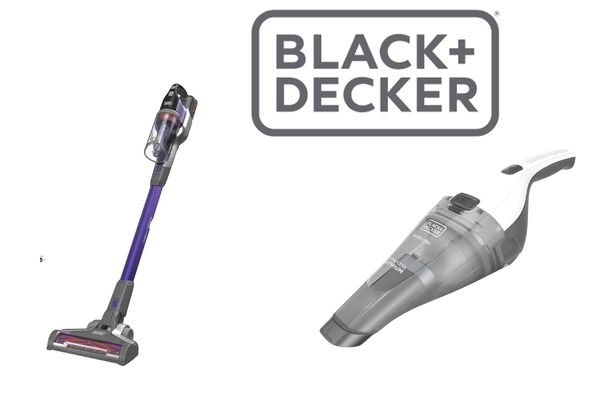 To meet the need for instant cleaning and secondary cleaning tools, here comes the Black+Decker. This USA-based manufacturer produces the best handheld vacuums, like the popular Dustbuster series. These tiny vacuums are easily portable and can also be stored in the car. From car seats, pet beds, and mattresses to edges and corners, these handheld vacuums defeat hidden dust mites from hard-to-reach areas where your regular full-size vacuum cannot get in. Apart from producing such convenient handheld vacs, this affordable brand also has a series of stick, upright, canister, and wet and dry vacuum cleaners.
Pros
Clean hard-to-reach areas
Operates on smaller spaces
Can be stored in the car
Lightweight and portable
Affordable
Cons
Eureka: Best for Upright Vacuums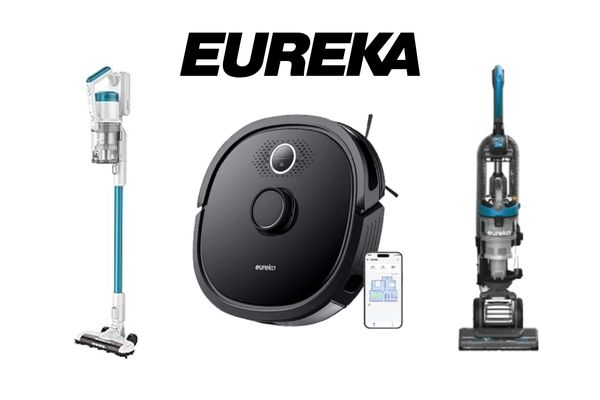 Eureka was founded in the USA in 1909, and the brand is owned by Chinese Media Group in 2016. Since its foundation, the brand has been well known for its affordability for users of all classes. From upright vacuums to robot vacuums and everything in between, Eureka has it all.
Among Eureka's upright vacuum production, the Eureka Airspeed Ultra-lightweight is a highly rated upright vacuum cleaner. The vacuum is affordable and has a long cord, quick dust-picking capacity with its wider cleaning path and standard suction power, and is easy to maintain. All these convenient perks at a reasonable price are really worth it. Apart from upright vacuums, Eureka has a collection of some of the best affordable sticks and bagless canister vacuums.
Pros
Affordable vacuums
Easy to maneuver
Standard suction power
Necessary attachment included
Cons
Some models emit louder noise
Oreck: Best For Commercial Use
Commercial area vacuuming is indispensable to keep the larger areas neat and tidy for workers as well as visitors. That's why commercial vacuums are usually manufactured with higher suction power, longer cord or battery life, and larger dust cup capacity. One of the best vacuum cleaner brands for commercial use is Oreck, founded in 1963 by a veteran of World War II named Oreck. The brand is reputed for its cost-effective vacuum cleaners with superior cleaning capacity. One of the popular Oreck vacuums is the Oreck Commercial Bagged Upright Vacuum, which has a 35-feet longer power cord, a minimum of three months lasting vacuum bag (based on the dirt), and professional grade cleaning capacity to tackle larger commercial areas.
Pros
Lightweight
Easy to operate
Effective filtration
Convenient bagged options
Cons
Final Words
Investing in a high-quality vacuum cleaner can be a lifesaver that simplifies tedious cleaning chores with its exceptional cleaning prowess. Renowned brands manufacture good quality vacuums with efficient cleaning capacity. However, each of the brands has unique features that excel in producing surface or dirt-specific vacuum cleaners. If you need a high-end canister vacuum for multiple surface cleaning, Miele will stand out as the best brand. To upkeep the nooks and crannies of your car, you can use Black+Decker handheld vacuums or Shark's convertible stick vacuums to achieve your desired cleanliness.