Witnessing your cat's playful antics throughout the house is a whirlwind of excitement. But the aftermath may leave you with chaos and clutter all around, including the litter! And the frustration mounts higher as you contemplate whether it's possible to vacuum cat litter without blending all the messes further. In this article, we'll elaborate on the matter of vacuuming cat litter. We'll also shed light on the do's and don'ts, the potential risks, and the benefits of cleaning cat litter. Let's get enlightened!
Can You Vacuum Cat Litter?
Yes, you can vacuum cat litter as long as the vacuum is compatible with tackling such messes. Usually, it's recommended to vacuum dry cat litter with compatible pet-specialized vacuums since regular vacs can get clogged and damaged if the litter forms clumps due to urine and feces.
Some of our expert-verified best vacuums for cat litter are- Bissell 2254, Eureka PowerSpeed Turbo, Dyson Ball Animal Upright, Black+Decker Dustbuster, and Bissell Pet Hair Eraser. You can also use a good quality shop vac for efficient cleaning, including wet clumps, heavy liquids, and rougher materials.
How To Vacuum Cat Litter: Step-by-Step Process
You can use a handheld vac or a shop vac to pick up cat litter. While using a vacuum cleaner for kitty litter, follow the steps below:
Step 1: Run the vacuum over the surface several times.
Step 2: Thoroughly cover the area. Go up and down, side to side, and diagonally, and loosen the cat litter as much as possible.
Step 3: After picking up the cat litter, use a rag or a regular vacuum to clean the rest of the area.
Note: After vacuuming, clean out the gunked-up filters and dust cups. Bagged vacuums might require bag replacements.
What Are The Alternatives Of Vacuuming Cat Litter?
A compatible vacuum cleaner would be more convenient to clean up cat litter. However, if you don't want to invest in a vacuum cleaner for cat litter, there are other effective alternatives for vacuuming:
Opt for a Litter Mat
A litter mat is really a lifesaver for cat owners. A litter mat doesn't let the litter particles scatter on the floor. You can place the cat litter box on a litter mat and prevent litter mess throughout the floors.
Sweep
Sweeping is the most hassle-free way to clean cat litter. You can use a broom or a sweeper to remove the litter and, later, vacuum the surface for optimal cleaning.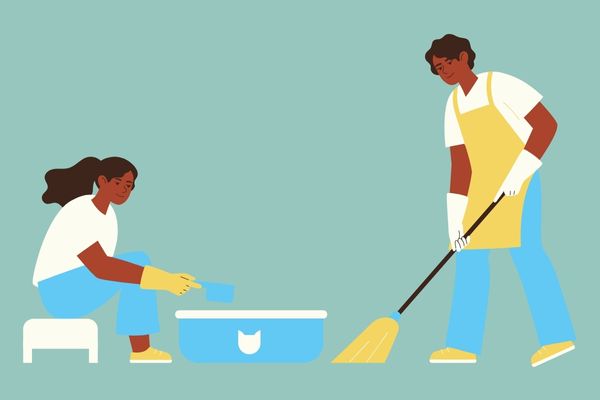 Using Carpet Rake
Carpet rake can be another alternative to vacuuming litter. With a carpet rake, you can remove cat litter as well as pet hair. After using the rake, use a carpet vacuum to clean the remaining residuals on the surface.
Using Carpet Cleaner
If there is sticky or gunky cat litter, a rake or broom might not help you out. In such situations, a carpet cleaner can be an effective solution. A compatible carpet cleaner like vinegar-water solution or hydrogen peroxide can wet and loosen the sticky mess, soak cat urine, and eliminate the unpleasant odors of your feline friend.
Use A Rag With Vinegar-water
If a carpet cleaner is not available, you can prepare a homemade cleaning solution with vinegar and water. Take equal amounts of white vinegar and water, and then soak the rag into the mixture. When you use the dipped rag on the surface, the vinegar will work to pull up the stains, and water will protect the surface from getting affected by the acid (shorten). At the same time, your surface won't smell like cat urine or any similar odor.
Can You Vacuum Cat Litter With A Dyson?
Yes, you can vacuum cat litter with a Dyson vacuum, including the Dyson V8 Animal cordless and Dyson V11 vacuum cleaner. These vacuums have higher torque cleaning heads to provide enhanced cleaning power. However, not all the Dyson vacuums can tackle cat litter, so it's recommended to check the model's capability for your litter cleaning needs.
How To Get Cat Litter Out Of Carpet?
You can use a carpet rake to extract cat litter out of the carpet. Place the carpet rake where the litter is scattered and pull it out of the carpet. What if you don't have a carpet rake or the rake is not capable of removing the litter? Fear not! To tackle such situations, you can use a shop vac. A carpet rake can clean dry cat litter, but it might be unable to pick up gunky mess sticking into the carpet. If you use a shop vac instead, you can clean both dry and sticky messes efficiently, and at the same time, there won't be the risk of potential damage.   
Is It Bad To Vacuum Cat Litter?
No, vacuuming cat litter is not bad, and in fact, it's a very good way to clean out such messes. However, the concern is you must choose the right vacuum. You'll find pet models of different brands, including Shark and Bissell. These vacuums usually feature pet attachments or special filters to trap the small to large particles efficiently. Without a wet and dry vacuum, don't pick up wet clumps with a regular vacuum, as it can cause potential damage.
Does Cat Litter Ruin Vacuums?
Yes, cat litter can ruin vacuums if the vacs are not pet-friendly. Cat owners regularly deal with dusty paw prints as well as litter mess. Vacuuming cat litter with a regular vacuum can clog the filter block, the hoses, and the canister, reducing its optimal suction capacity. When you push a regular vacuum cleaner over cat litter, ignoring such risky conditions, the vacuum ultimately loses its cleaning capacity and gets damaged easily. That's why you need to choose pet-specific vacuum cleaners.
Final Word
Dealing with cat litter, paw marks, and cat sheds is a regular struggle for every cat owner. That's why pet owners must put emphasis on regular household cleanliness more. Manual cleaning can be strenuous as well as requires more tolerance of unmistakable odors. Conversely, a compatible pet-special vacuum cleaner or a shop vac can ease up such regular daunting tasks.