Regular vacuum cleaners are designed for household cleaning, while shop vacs are mostly used for commercial and industrial cleaning. Regular vacs are best for vacuuming dry places only, whereas Shop vacs are versatile wet and dry vacuums that work on wet dirt, too.   
However, shop vacs and regular vacuum cleaners are manufactured for distinctive cleaning purposes. In this post, our vac experts are sharing all the insights you need to know about shop vacs and regular vacuums so you can decide which type is best for your cleaning needs. Let's figure out the distinctive specs between these two types of vacuums. 
Shop Vac Vs Regular Vacuum Comparision Table
| | | |
| --- | --- | --- |
| | Shop Vac | Regular Vacuum |
| Usages | Construction sites, woodwork shops, garage | Home |
| Power | Higher | Less-higher than a shop vac |
| Size | Bucket size | Stick, Canister, Slim-flat round |
| Filtration | Yes | Yes |
| Durability | More durable | Can be less durable |
| Price | Affordable to premium | Affordable to premium |
| Noise Level | Higher | Lower than a shop vac |
Shop Vac Vs Regular Vacuum: Brief Comparision
Usages
Shop vacs are heavy-duty vacuums that can deal with dreadful messes on construction sites, garages, or woodwork shops. Shop vacs are manufactured to collect larger debris, like chunks of wood, small metal pieces, wet dirt, and so on, compared to the regular vacuum cleaner. Besides, there are also household shop vacs (wet & dry) that can absorb water from the floor and, at the same time, pick up dry messes.
Related Post: How to Clean Unsealed Concrete Floors Indoors
On the other hand, a regular vacuum is best for the household to clean up, including removing dust particles, pet hairs, dander, and stuck-on dirt from carpets, upholstery, floors, stairs, etc. However, these types of vacuum cleaners are unable to absorb water or any wet dirt.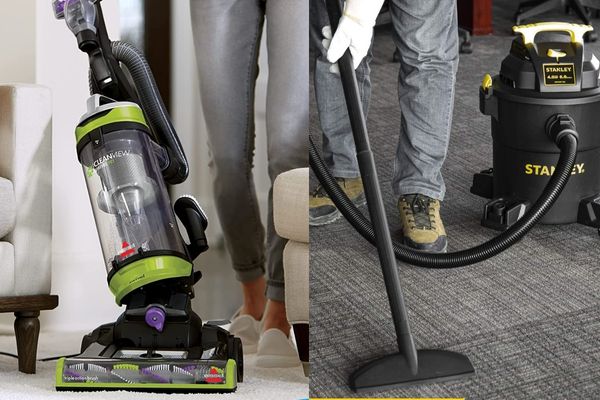 Suction Capacity
As shop vacs are mostly intended to pick up larger debris, and they are heavy-duty machines, they are manufactured to get more airflow in order to provide powerful suction.
Compared to shop vacs, regular vacuum cleaners are designed to get limited airflow which is exactly needed to extract dust and crumbs from household surfaces.
Motor power
Shop vacs need more powerful motors in order to collect big, chunky pieces of debris. For example, look at this shop vac BOSCH 9 Gallon Dust Extractor which has 6.5 horsepower (4847.05 watts).
On the other hand, the motor of a regular vacuum cleaner like Shark NV352 Navigator shows 1200 watts which is noticeably less than the shop vac but, at the same time, adequate to clean multiple household surfaces properly.
Performance
Shop vacs are versatile; they can collect both wet and dry mess. Conversely, most regular vacuum cleaners are designed to collect fine dirt from floors, carpets, and other dry surfaces.
Durability
High-end vacuums like this DEWALT Wet Dry Vacuum Cleaner DXV06G are more durable than those lower-quality vacuums. Shop vacs are used for heavy-duty and commercial cleaning purposes. So, in general, shop vacs have a durable build compared to regular vacuum cleaners. Although there are cheaper
On the other hand, regular vacuum cleaners that are cheaper in quality are found to be less durable than premium regular vacs; a high-quality regular vac like this Miele Classic C1 can be more durable than any affordable shop vacuum.  
Design & structure
Multipurpose shop vacs look like a bucket and feature bigger hoses. Similar to regular vacuum cleaners, shop vacs also come up with corded and cordless models. However, these machines can be heavy and bulky in size.
On the other hand, regular vacuum cleaners feature versatile designs, like upright, canister, stick, and self-operated robotic; their corded and cordless versions are also available on the market. Regular vacuum cleaners are lightweight and not bulky at all.
Filtration
All vacuum cleaners have a filtration system to trap the dust; otherwise, the collected dirt would get scattered around unexpectedly. You'll find different types of filtration systems, including HEPA filters, bag filters, foam filters, cyclone filters, carriage filters, and cloth filters.
As shop vacs are used for larger debris cleaning, they can also be used for absorbing water; shop vacs usually have a larger filtration system than a conventional regular vac.
Related Post: How To Clean A Painted Concrete Floor
Noise Level
Shop vacs are comparatively noisier than regular vacuum cleaners. Regular vacuum cleaners are specifically designed for household purposes, so they are manufactured to emit a tolerable noise up to nearly noiseless.
On the other hand, shop vacs are intended for commercial and industrial purposes; hence, their powerful motors can make a louder noise.  
Price
Both the shop vac and regular vac are found at an affordable price, mid-range and costly premium models. However, high-end industrial shop vacs are a tad pricy compared to any other types of vacuum cleaners, including regular vacs.
Verdict
Vacuum cleaners can help you deal with dreadful dirt, blowing filth from clogged sinks or drains, and even help you extract accumulated water; it is a more convenient alternative to manual cleaning. When choosing the suitable type of vac, shop vacs are versatile and can be used for commercial and residential purposes, but it's a tad pricier than regular vacs.
Whereas regular vacuums are more affordable and best for residential usage only. You can count on shop vacs for deep cleaning that an affordable regular may not be able to offer. Although high-end regular vacs can do deep cleaning, they cannot deal with wet dirt like shop vacs.
So, the bottom line is, if you are flexible on budget and need to clean the wet and dry mess, choose a shop vac; otherwise, an affordable regular vac will be best for you.  
Shop Vac Vs Regular Vacuum: FAQ
Can You Use A Shop Vac As A Regular Vacuum?  
Yes, you can use a shop vac as a regular vacuum to clean up your garage and outdoor yards. Shop vacs are tough on the wet mess and larger debris.
What Can You Vacuum With A Shop Vac?  
Shop vacs are heavy-duty vacuum cleaners that are able to pick up a vast range of dirt, including small metal pieces like screws, nails, chunks of wood, and other dry and wet messes.   
Is A Shop Vac More Powerful Than A Regular Vacuum?  
Yes, a shop vac can be more powerful than a regular vacuum. Shop vacs are mainly intended to work outside, like woodwork shops, construction sites, and garages; hence, they are packed with more power to pick up dreadful dirt than just removing pet hair or any other household dirt.