To secure apartments from intrusion or theft, our experts recommend opting for the best security camera with detailed footage, wide area coverage, and clear night visibility. They also spoke of cameras that send an instant notification, are easy to install, and are reasonable. When we throw challenges, they tested and reviewed the most buzzing security cameras and came up with a roundup of 5 outstanding best cameras for apartments that guard your property 24/7.
So, to speak, meet the most recommended security camera on the list, the Arlo Essential Wired, which offers high-definition footage, a wider field view, and it's highly suitable for indoors. We understand apartment renters and owners have different needs. So, we have included affordable, wired/wireless models so you can pick the perfect camera to secure your apartment.
How To Choose The Best Camera For Apartment?
When choosing the best apartment security camera, options are limited, yet tricky to choose. Two things you should not compromise on high-quality footage and easy installation. Keeping these key points in mind, a good quality camera has some other smart features you can consider, like a wider and more flexible field view for larger area coverage, motion detection capacity for enhanced security, and 24/7 live streaming. These types of advanced features come in exchange for monthly subscription fees.
Without further ado, let's see the key points based on which you can find the best camera for your apartment:
Wired/Wireless System
Apartment owners rarely bother if the camera is wired or wireless. Compared to wireless security cameras, wired models are often difficult to install and also tricky to relocate if needed. As an owner, you have the freedom to choose between wired and wireless security cameras for apartments. Renters might need permission to install a wired security system. Instead, installing a wireless security system is easier and hassle-free for apartment dwellers.
Can you drill holes in apartment walls?
Yes, in most cases, renters can drill holes in apartment walls. You might need to ask for permission if there is any wiring required or if you want to set up a security system outside of the apartment. That is why it's suggested to check the lease agreement or talk to the manager.
Footage Quality
The best apartment security cameras should be able to deliver high-quality footage that is as clear as an IMAX screen, no matter whether it's day or night. It also covers a wider area so you can monitor who is knocking at the door or your pet is messing up things inside the apartment. The standard footage quality includes a minimum of 1080p HD resolution with at least a 120-degree field of view. For better nighttime visibility, look for a night vision feature.
Which is better, 2MP or 5MP?
5MP security cameras deliver better clarity than 2MP (1080P) cameras. For residential apartment use, 2MP cameras with a field view up to 150 degrees are enough. 5MP cameras can perform better with detailed footage and better night visibility to monitor larger outdoor spaces.
See Also: 5MP vs 8MP Security Camera
Easy to Install
In terms of security camera installation, wireless cameras are easier to install and more convenient for apartments since you can directly connect them to Wi-Fi. Wireless security cameras offer easy DIY installation that you can easily proceed with. Compared to wireless cameras, hard-wired security cameras are difficult to install. Some hard-wired security camera requires professional assistance to install.
What is the best place to install indoor security cameras?
The best place to install indoor security cameras is the spot from where you can maximize your monitoring, and it's safe from being manipulated. If the camera rotates or has a wider view, we advise installing the camera in the topmost corner of the wall (for outdoors) or on top of the shelf (for indoors) to ensure maximum coverage.
Basic Monitoring vs Subscription Based
Security cameras feature two types of monitoring options- free monitoring and monitoring with a monthly subscription. Free monitoring offers basic features such as motion alerts and two-way audio. In contrast, the best apartment security cameras feature customizable motion detection, siren, and human/animal/package/car detection in exchange for a monthly subscription fee.
Can I monitor my security camera remotely?
Yes, it's possible to monitor a security camera remotely. Once the camera is connected to the network and the camera app is integrated into your phone, it becomes very easy to monitor what's happening in the apartment. However, for remote monitoring, some security cameras may require purchasing a monthly or yearly subscription plan.
See Also: How To Tell If Arlo Camera Is Recording
Storage
Security cameras have local and cloud storage. Some models offer both storage options if you're up for their monthly subscription plans. Local storage requires physical access to the SD card (up to 256 GB) to retrieve any footage. However, if you opt for a subscription plan, it'll be convenient to access footage from the camera app or download it from the cloud conveniently.
Cloud vs local storage- what is the difference?
Local storage doesn't require additional charges, but it's limited and cannot be accessed remotely. If the micro-SD card gets destroyed, the recorded footage will also be lost forever. On the other hand, cloud storage requires subscription plans to enjoy unlimited storage. With cloud storage, you can view or download footage anytime, and you have no risk of losing the footage.
List of the Best Camera for Apartment: Expert-Vetted Top 5 Security Cameras 
1. Arlo Essential Indoor Camera
Best Over Security Camera for Apartment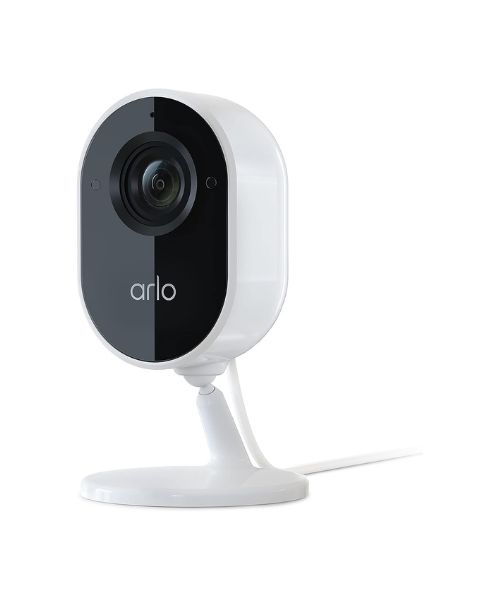 Specs:
Video Quality: 1080p
Night Vision: Crisp and clear
Source of Power: Plug-in
Motion Detection: Yes
Two-Way Audio: Yes
Storage: Cloud
Smart Homekit Compatibility: Alexa, Google Assistant, Apple HomeKit
Pros
High-quality clear footage
Crisp night vision
Wired but easy to install
Two-way audio
Enhanced privacy shield
Standard field of view  
Cons
Advanced features are only available with a subscription fee   
Arlo is a major manufacturer of technologically advanced security systems like this Arlo Essential Wired indoor cam. This wired security camera delivers stunning footage and covers a large field view, so you can monitor the entire room easily. Although the camera features black-and-white night vision, it provides daytime-like clarity. With a stable Wi-Fi connection, you can monitor live streaming or communicate utilizing the two-way speaker via the Arlo app; there won't be any interruption.
We found the Arlo Essential Wired Cam hassle-free. Besides, the camera stands on any flat surface like a shelf or table. Not limited to that, you can also mount it at a higher place on the wall to get the best viewing angle. This security camera features a privacy shield that allows you to turn off the camera whenever it's needed so you can schedule on/off when needed. This cam also offers advanced features like human, vehicle, or animal detection, smart zone activity, and smoke and CO alarm detection, and comes with a subscription plan. If the budget allows, we recommend going for Arlo's subscription to get the added features.
Buy this if
You want the overall best security camera for Apartment: The Arlo Essential Wired Indoor camera has all the perks that can benefit owners as well as renters offering its easier installation and detailed footage quality without spending a king's ransom. It comes at only $100!  
Don't buy this if
You're looking for a wireless security camera for an apartment: Your apartment owner might be sensitive about his property and won't let you mount this wonderful, wired Arlo Essential Indoor security camera. Alternatively, look for Blink Indoor (3rd Gen), which is wireless and more convenient to install.  
2. WYZE Cam Pan v3
Most Affordable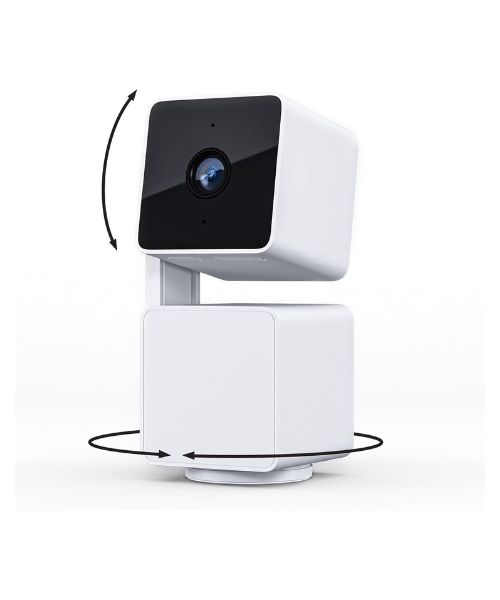 Specs:
Video Quality: 1080p
Night Vision: Color
Source of Power: Plug-in
Motion Detection: Yes
Two-Way Audio: Yes
Storage: Local and cloud
Google/Alexa Compatibility: Yes
Pros
Affordable
High-quality footage
Clearer footage in the dark
Rotate and zoom
Multiple storage options
Smart home integrations
Tracks motion
Suitable for both indoor and outdoor
  
Cons
An adapter for outdoor setup is not included   
The WZYE is the best affordable security camera for apartment on our list, with outstanding full-HD footage quality that stands out during the day and night, especially at night, thanks to its color night vision. Just look what the WYZE Cam Pan v3 is offering at less than $50- motion detection, tracking, and two-way communication! These features are handy for monitoring babies or pets at the apartment! You can keep an eye on and communicate with kids via the two-way speaker if needed. This can also rotate and zoom for better monitoring, which makes it more suitable for outdoor monitoring and indoor use as well. However, if you're on rent and want to install the WYZE Cam Pan v3 outdoors in your apartment, we recommend asking for the permission of your apartment management. For indoor use, simply put this wired security camera on a flat surface and plug-in into a power outlet.
Buy this if
You need to purchase multiple cameras for your apartment: The WYZE Cam Pan v3 has an affordable price tag with loaded features that make it the best choice for apartment renters. On top of it, you can use more than one cam in different rooms to monitor everything.
Don't buy this if
You like compactness: The WYZE Cam Pan v3 is overall a great performer, but its bulkier design might not attract many. Instead, consider the Arlo Essential Indoor cam, which is sleek, compact, and overall best for apartments. In return, you must spend a bit extra.
3. Ring Indoor Cam, 2nd Gen
Best Value for Money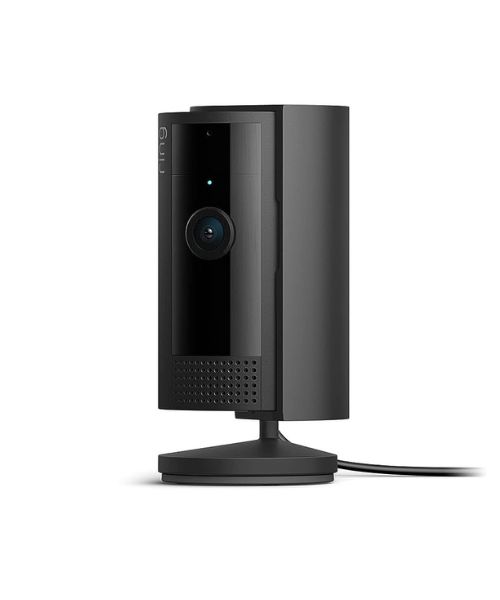 Specs:
Video Quality: 1080p
Night Vision: Color
Source of Power: Plug-in
Motion Detection: Yes
Two-Way Audio: Yes
Storage: Cloud
Smart HomeKit Compatibility: Alexa
Pros
Full-HD footage quality
Easy DIY installation
Uninterrupted live streaming
Instant motion detection
Manual audio-video privacy cover
Footage can be stored for up to 180 days
One-year limited warranty from Amazon
Cons
Narrower field view (115-degree)   
Although wired, the Ring Indoor Camera (2nd Gen, 2023 addition) brings more convenience for renters who want to install a security system in apartments within a budget. Unlike the WYZE, the Ring Indoor cannot be used outside as it won't be able to withstand harsh weather. But it records full-HD quality footage that can be stored for up to 6 months on the cloud storage, a rare feature for indoor security cam at this price to keep the recorded footage for a longer period. The Ring Indoor stands on a flat surface like a table or shelf, or you can mount it on the wall. To mount it on the wall, you might need to drill if there is no existing hole, so ask permission if you're on rent. This apartment security camera is also compatible with Alexa, so the user can operate the camera via voice command. You can also stop recording or monitoring if necessary. And all this convenience comes at only $60. Isn't it amazing?
Buy this if
You're looking for affordable yet offers the best value for money: The Ring Indoor Cam (2nd Gen) is a perfect fit for renters who are on a budget. At only $60, you'll get all the necessary perks that keep apartments safe and secure.
Don't buy this if
You're looking for a security camera with a local storage option: The Ring Indoor cam doesn't offer a local storage option. You can look up the Blink Indoor camera, which is also affordable at only $80!
Google Nest Cam Indoor
Best Wired Security Camera for Apartment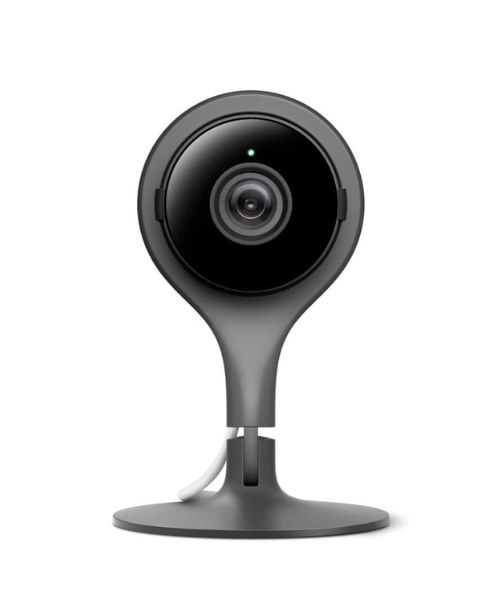 Specs:
Video Quality: 1080p
Night Vision: LED infrareds
Source of Power: Plug-in
Motion Detection: Yes
Two-Way Audio: Yes
Storage: Cloud
Smart Homekit Compatibility: Google Assistant
Pros
24/7 live streaming
High-quality footage
Infrared LEDs for better night visibility
Apartment-friendly installation
Two-way audio
Instant mobile alerts and notifications
Two-year limited warranty
  
This Google Nest Cam Indoor is a widely admired apartment security camera with 24/7 live streaming capacity but will cost more than the Arlo, but in return, it can give you peace of mind. How? It's Google-owned! The Nest Indoor cam delivers high-definition footage; its 8 infrared LEDs keep the night visibility ahead of other models in this list. This best camera for the apartment won't bother you while installed either in a paved support or wall mount. No matter whether you're a renter or an owner, the Google Nest Cam's DIY installation process makes it convenient both for renters and owners. With its two-way speaker, you can communicate at home and respond to notifications as soon as the Google Spider captures any motion. This Google Nest cam keeps snapshot history for up to 3 hours. As a result, you can check them out in case of missing anything. One thing this Google Cam lack is local storage backup during Wi-Fi or power outage.
Buy this if
You're ready to pay extra for apartment security: The Google Nest Indoor cam gives tough competition to the Ring as well as the Arlo. There is a lot to like about the Nest Indoor, including its smart features, user-friendly options, and easily integrated app.
Don't buy this if
You're looking for more budget-friendly options: Spending $154 on a security camera might be hefty for you. As an alternative, we recommend the WYZE, an affordable solution that will give the best value for money.
Blink Indoor (3rd Gen)
Best Wireless Security Camera for Apartment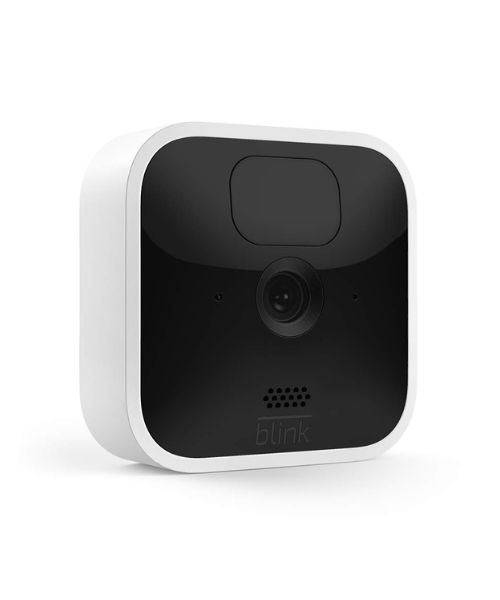 Specs:
Video Quality: 1080p
Night Vision: Infrared
Source of Power: Battery
Motion Detection: Yes
Two-Way Audio: Yes
Storage: Local and Cloud
Smart HomeKit Compatibility: Alexa
Pros
Easy to install in apartments
Standard footage quality
Local and cloud storage facility
Two-way speaker
Detects motions effectively
Long-lasting battery life
Cons
Below-average night vision
Field view 110-degree
Blink Indoor (3rd Gen) is the best wireless security camera for apartments, especially for its convenient installation. It offers a hassle-free setup as well as relocation whenever needed. This third generation of the Blink Indoor comes with nearly two years longer battery life, so once you install the cam on your apartment, you can forget about the maintenance. The camera supports dual storage options- both local and cloud. This wireless security camera also has full-HD footage quality for crystal clear visibility during the day and night. You can speak over the two-way speaker of the camera and can utilize the Alexa voice command for added convenience. One thing we find a little bit bothering is- the camera's night vision. Our experts figure night vision is not that much impressive like the Nest or Arlo's. However, for indoor apartment usage, it might not be a big deal.
Buy this if
You're looking for the best wireless security camera for an apartment: Featuring both local and cloud storage options is not the only reason we rank the Blink Indoor (3rd Gen) as one of the best cameras for apartments; its wireless installation makes it the most convenient security camera both for renters and owners.
Don't buy this if
You need a wider field view: The Blink Indoor (3rd Gen) can cover up to 110-degree field view, which is pretty much good for indoor/household use. However, if you need a wider view, the Ring Indoor cam is the best option for you.
Final Words
When choosing the best apartment security camera, there is a lot to consider, like footage quality, night vision, alarm notifications, and much more! We think most high-quality cams can pass through the criteria. That's why we consider the best camera for an apartment that excels in every department and is also very easy to install. No matter whether you are the owner or the renter, all our listed products are tried and tested. We picked them based on how easy to install, whether to mount them on the wall or plug them into the nearby power outlet. If you purchase any of the camera from the list above, you can make the most out of your cash!