Gone are the days of dragging a vacuum cleaner from one place to another and disposing of dirt manually. Now, you can take advantage of advanced robot vacuum cleaners like the iRobot Roomba i4+, which offer super convenient and hand-free cleaning with its advanced technology. The Roomba i4+ is the improved version of the Roomba i4. Its upgraded cleaning base docking station keeps the vac ahead of its previous version and makes it a tough competitor of other self-emptying robot vacuum cleaners. Let's review the Roomba i4+ and see what makes it a stand-out robot vacuum compared to others in the crowd.
Roomba i4+ Review: In a Nutshell
It's a highly efficient self-cleaning robot vac that works on cleaning surfaces, hard floors, and carpets alike. Runs up to 100 minutes and takes nearly 120 minutes to get recharged fully; the Roomba i4+ comes with advanced sensors, including smart navigation, dirt detection, anti-dropping, and under-furniture area cleaning capacity to remove hidden dust residuals across your home.
Roomba i4+ Pros & Cons
Pros
Multiple-surface cleaning
Schedule cleaning
Smart mapping
Self-emptying technology
Effective filtration system
Advanced sensors
Lower suction noise
Cons
Create louder noise while self-emptying
Additional dust bag replacement costs
Roomba i4 Specification:
| | |
| --- | --- |
| Features | Roomba i4+ |
| Suction Power | 10x Power Lifting Suction |
| Run Time | 100 minutes (about 1 and a half hours) approx. |
| Dustbin | +/- 0.3 L |
| Weight | 7.44 lbs. |
| Mopping | No |
| Dimensions | 13.26" W x 3.63'' H x13.34" L |
| Auto Dirt Disposal | Yes |
| Wi-Fi Connectivity | Yes |
| Multi-Floor Mapping | Yes |
Roomba i4 Review: Features
Build Quality and Design
The Roomba i4+ is uniquely designed and a smart featured robot vacuum cleaner. Its cool color combination of grey and black gives the robot vac an aesthetic appearance. No need to mention its self-dirt disposing capacity and multiple sensors to clean your home efficiently. Its advanced navigation sensors protect the vacuum from getting bumped into walls or falling from stairs.
There are three buttons above the vacuum- from the left; the 1st one is the return to dock and recharge button, the 2nd one is the power (on/off) and clean button, and the 3rd one is for spot cleaning. At the side, you'll find a trash button which is used to remove the dust bin. And on the flip side, it stores brush rolls, drive wheels, and sensors. You can integrate the Roomba i4+ with Alexa to listen to you as well as set a schedule for automatic cleaning when you're busy or not at home.
Suction Capacity & Performance
The Roomba i4+ has auto-adjusting suction power that is tough on dust and debris on different surfaces. Its Power-Lifting suction power has 10x better capacity than its basic earlier models, like the Roomba 694. This upgraded model of iRobot also showed better dirt collection capacity than the Roomba i4.
The iRobot Roomba i4+ is compatible with cleaning carpets, area rugs, and hard floors. Its dual multi-surface rubber brush and edge-swiping brush are a great combo for cleaning the main surface as well as corners. Compared to the Roomba i4's better carpet cleaning capacity, the upgraded i4+ provides high-efficient performance both on bare floors and carpets, which practically justifies its high price tag of $650.
Roomba i4+ can quickly pick up fine debris like, rice, salt, sand, and hair without clogging or tangling. This robot vacuum is efficient in collecting pet fur from floors and carpets. Besides, this smart vacuum cleaner can detect dirty areas, thanks to iRobot's Dirt Detection Technology. However, like other robot vacuum cleaners, the Roomba i4+ is not recommended to vacuum powdery elements like baking soda and flour as such materials can clog the flirter and hamper motorized functions.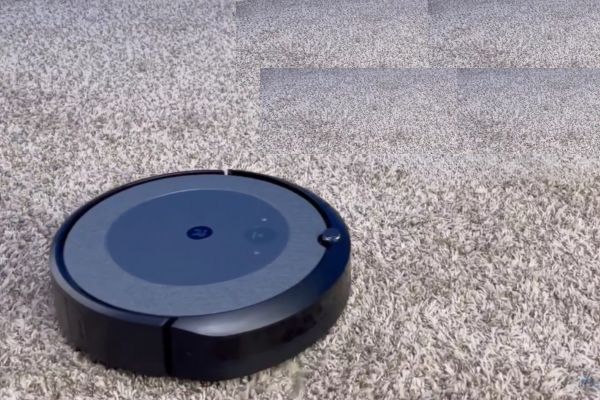 Battery Life & Noise
In our test lab, the Roomba i4 plus lasted up to 90 minutes. If the vacuum need to deliver higher suction to pick up larger or stuck debris, the battery may drain faster. Once the robot senses the battery has not adequate power to lift residuals, it'll automatically return to the charging dock.
The battery usually takes nearly 2 hours to recharge fully. However, it's recommended to use only the authentic battery that comes along with the vacuum. You can purchase additional batteries directly from the manufacturer or from iRobot authorized dealers. The use of local batteries may overheat the robot vacuum and cause potential damage.
Unlike Roomba's older models, its newer i4 series is quieter. When the Roomba i4+ operates through hard floors, it seems slightly louder (+/-62 dB). On the other hand, the noise level remains at a lower pitch when it works on carpets or rugged areas.
Cleaning and Maintenance
Roomba i4+ features a HEPA filter which is efficient enough in trapping maximum (99.7%) dust and allergens without triggering sneezing. If you're prone to allergens, this vacuum cleaner assures your tranquillity.
The Roomba i4+ can self-empty itself. When Roomba's interior dust cup is full, it will automatically return to the cleaning dock and dispose of the dirt. This dirt disposal compartment is designed to hold up to 60 day's dirt, depending on how frequently the vacuum disposes of it. Once the dust bag inside the disposal compartment is full, just replace it with a new bag.
Although the vacuum can dispose of all the dirt itself, you should clean the interior dust cup and filter and other removable parts once or twice a week. Besides, you can also swipe the vacuum with soft dry clothes from time to time to keep it free from clogging by microparticles.
Note: Don't keep the vacuum or its charging dock in a wet place, and ensure every part of the vacuum cleaner is dry before you reset them after cleaning.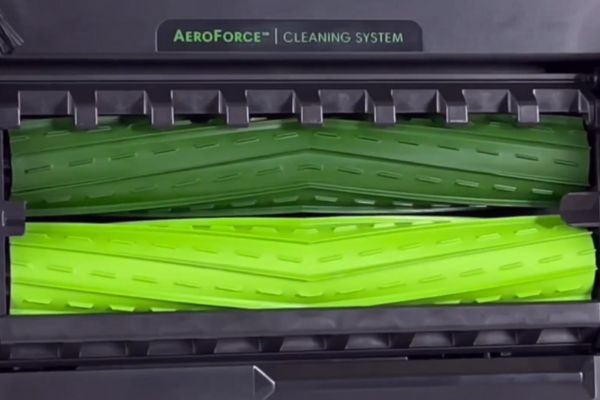 Advanced Sensors
The Roomba i4+ is manufactured with a mapping sensor that sets this model apart from the basic models of iRobot Roomba. The i4+ robot vacuum cleaner is equipped with the including sensors:
Smart mapping sensor: The Roomba i4+ is designed with Imprint Smart Mapping Sensor. This sensor helps the vacuum to follow your specific cleaning routes either based on your schedule or whenever you want.
Dirt detection sensor: iRobot has its own patented dirt detection technology by which the vacuum can detect messy areas on the surface and clean them accordingly.
Cliff sensor: This anti-dropping sensor prevents the vacuum from falling.
Roomba i4 Comparision:
| | | | |
| --- | --- | --- | --- |
| Features | Roomba i4+ | Roomba i3 | Roomba j7 |
| | | | |
| Suction Power | 10x Power Lifting Suction | 10x Power Lifting Suction | 10x Power Lifting Suction |
| Run Time | 100 minutes approx. | 75 minutes | 100 minutes approx. |
| Dustbin | +/-0.3 L | 0.38 L | 0.25 L |
| Weight | 7.44 lbs. | 7.44 lbs. | 7.49 lbs. |
| Mopping | No | No | No |
| Dimensions | 13.26" W x 3.63'' H x13.34" L | 13.26'' W x 13.26'' x L 3.63'' H | 13.34″L x 13.3″W x 3.4″H |
| Auto Dirt Disposal | Yes | No | No |
| WiFi Connectivity | Yes | Yes | Yes |
| Multi-Floor Mapping | Yes | No | Yes |
Verdict
iRobot Roomba i4+ holds a midrange spot compared to other premium models, but it has perks like smart mapping and self-empty capacity, as you can find in premium vacs. For those who are looking for a premium-like robot vacuum cleaner at a reasonable price, we recommend Roomba i4+. iRobot Roomba i4+ is one of the fewer models that packs two advanced features- self-emptying technology and smart mapping feature. On top of it, the vacuum has a longer battery life that, lasts more than 1.5 hours and takes up to 2 hours to recharge fully, and has all the perks to keep your house spic and clean.