Don't you ever get amazed by the glossy shine and aesthetic style of vinyl plank flooring? Users like it for its ease of cleaning and maintenance. Vinyl plank flooring is water resistant, so you can easily use vacuum cleaners on Vinyl flooring. If you account for the Bissel Crosswave, it is a high-end corded vacuum cleaner compatible with multiple floor surfaces, including hard floors and carpets. However, is it possible to use a Bissell Crosswave on vinyl plank flooring? To find the Crosswave's compatibility with vinyl plank flooring, stick to this in-depth article till the end!
Can You Use A Bissell Crosswave On Vinyl Plank Flooring?
Yes, you can use a Bissell Crosswave on vinyl plank flooring. Vinyl plank flooring requires a soft brush attachment or microfiber mop to vacuum the floor surface. Bissell Crosswave is designed with innovative microfiber and nylon brush that is highly efficient for cleaning vinyl plank flooring without damaging the floor surface.
How To Use Bissell Crosswave On Vinyl Plank Flooring?
Bissell Crosswave comes with a multi-surface cleaning solution to clean the wet mess. Here are some easy-to-follow steps on how to use Bissell Crosswave on vinyl plank flooring effectively:
Step 1: Remove all the fine debris from the floor surface.
Step 2: If you want to dry clean the floor surface, then keep the turn-off liquid cleaning feature via the control button. If you need wet and dry cleaning, then fill the Crosswave's water tank with the included cleaning solution in the box.
Step 3: Turn the vacuum on and slowly move it back and forth. Keep the speed setting to a moderate level for sweeping the vinyl plank floor.
Note: Once you're done vacuuming, leave the surface. Avoid walking on the floor until it gets completely dry.
Essential Tips For Using Bissell Crosswave On Vinyl Plank Flooring
To get the best results, follow the tips while using the Bissel Crosswave on vinyl plank flooring:
Broom or Swipe Beforehand. Before using the Bissell Crosswave, always remove the loose dirt from the surface so that it cannot clog into the machine. As a result, you can conveniently mop and clean without damaging the Crosswave.
Use the Brush Roll Gently. Don't scrub the floor surface aggressively since excessive force or higher speed can leave scratches on the floor surface.
Test The Cleaning Solution. Before using any cleaning solution, test in a small, inconspicuous area to ensure that the cleaning solution and the vac can properly clean your vinyl plank flooring.
Avoid Using Excessive Moisture. Although vinyl plank flooring is water-resistant, you should not use excessive water or cleaning solution more than it's required. Otherwise, the seam lines of the floor can be affected and damage the vinyl floor over time.
Follow the Manufacturer's Instructions. Always maintain care instructions provided by the manufacturer to ensure optimal performance. Properly following the instructions will help extend the lifespan of your Bissel Crosswave.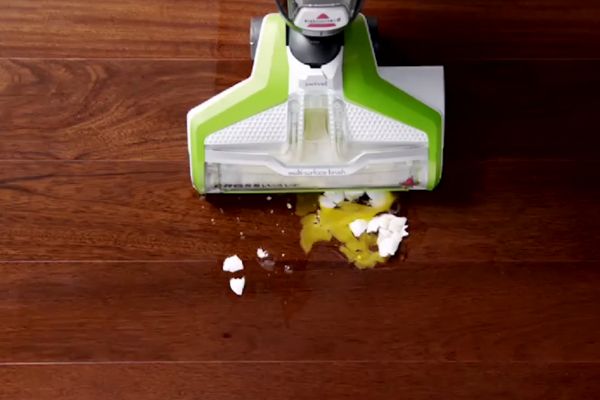 Can I Use Bissell Spinwave On Laminate Floors?
Yes, you can use Bissell Spinwave on laminate floors. The Bissell Spinwave is a professional sealed hard floor cleaner. Its soft-touch pad and scrubby pads are highly effective in removing sticky dirt and grim from any hard surfaces. This affordable vacuum comes with trial-size hard floor and wood floor cleaning solutions by which you can mop the floor surface and keep it always fresh and shiny. Like Crosswave, you can control the amount of solution needed to spray on the floor while cleaning. However, Spinwave is not good at cleaning carpets or upholstery.
Final Thoughts
Bissell Crosswave is effective on vinyl plank floors and other hard surfaces. However, the price range might be hefty for many. As an affordable alternative, we recommend the Bissell Spinwave. If you're looking for the best vacuum cleaner for vinyl plank flooring or any other hard floors, this cordless vacuum cleaner featuring a low-profile design can remarkably restore the natural shine of your floor.