When it comes to the couch or upholstery cleaning, you'll need a vacuum cleaner that is lightweight, easy to operate, and, at the same time, features adequate suction capacity for cushion material. Couches are often manufactured with very delicate materials. If you use a very powerful vacuum, the furniture can get damaged. So, choosing the best couch vacuums that perfectly clean up sensitive couches without damaging them might be time-consuming.
At Simple Living Insider, we have tested 37 couch vacuum cleaners and short-listed 5 vacuums based on type, ease of use, and cleaning capacity. After such rigorous tests, our experts discovered the BLACK+DECKER 20V Max has no match and is the clear winner; it's affordable, lightweight (only 3 lbs!), and features a washable fabric filter.
If you or any of your family members have asthma or an allergy problem, then you should use a vacuum cleaner that works like a HEPA filter, like the Shark WV201 WANDVAC Handheld Vacuum. Bissell Spot Clean Pro costs a few dollars more compared to the Black Decker, but it'll ensure an allergens-free healthy environment after clean up.
Let's go through all the top-notch options you have in the following list of the best couch vacuums.
List Of The Best Vacuum For Couches
1. BLACK+DECKER 20V Max Handheld Vacuum
Specs:
Dimension: 18″L x 6.88″W x 6.75″H
Dust Cup Capacity: 15 ounces
Power Source: Battery
Item Weight: 3 lbs.
Vacuum Type: Hand-handled
Filter Type: Washable fabric filter
Pros
Lightweight cordless vacuum
Adequate suction power in a compact size
Easy to clean hard-to-reach areas
Can be used at home and car
Decent dust cup capacity
Included attachments- Washable Filter, Pre-Filter, On-Board Crevice Tool, On-Board Brush, and Charging Base
Cons
Shorter battery life
Emits excessive noise
BLACK+DECKER 20V Max is an all-purpose handheld vacuum cleaner that comes at a very reasonable price. It's one of the top-rated couch vacuum cleaners featuring an impressive suction power suitable to extract dust, sand, cereal, and other pisky particles from your couch. Besides, you don't need any additional pet hair removal tools when this BLACK+DECKER is in your hand! However, its 80 dB noise level may annoy you while vacuuming the couch.
While testing, we've found its powerful pivoting nozzle very convenient in reaching the corners and narrow spaces between the couch. In addition, the vacuum can extract dust up to 15 ounces at a time. Besides, its triple-level filtration system is very effective; you can wash both the dirt bowl and the filter. However, one thing we didn't like about this model is its shorter battery life; but if your couches are not larger, Black Decker is good to go.
Buy this if
You're looking for an all-purpose handheld vacuum cleaner at an affordable price range. You'll also get a Washable Filter, Pre-Filter, On-Board Crevice Tool, On-Board Brush, and Charging Base along with the vacuum cleaner.
Don't buy this if
You cannot tolerate the noise of a vacuum cleaner. When operating, this vacuum cleaner emits 80dB noise, which can be typically louder to you.
2. Shark WV201 WANDVAC Handheld Vacuum
Specs:
Dimension: 16.5″L x 2.5″W x 2.4″H
Dust Cup Capacity: 0.08 Quarts
Power Source: Battery
Item Weight: 1.4 lbs.
Vacuum Type: Hand-handled
Filter Type: Washable fabric filter
Pros
Ultra-lightweight with a good build quality
Brushless motor extract dust and debris from couches
Easily clean up hard-to-reach areas
Features washable fabric filter and dust cup
Included Attachments- Battery, Crevice tool, nozzle
This ultra-light handheld vacuum cleaner is excellent for couch cleaning; you can also clean fine dust from low pile carpet and hard floors with this handheld vacuum. However, it works best on couches. Besides, its highly efficient filtration system is also good for people prone to allergies.
We find the dust cup a little bit inconvenient for larger couch cleaning. Even if you have multiple couches, you may need to clean the dust cup frequently in the middle of vacuuming; its dust cup capacity is 0.08 ounces. However, cleaning the dust cup is not a hassle since it features a one-touch empty option; it disposes of the dust in just about a touch!
Buy this if
You need an ultra-lightweight couch vacuum cleaner that will remove all the dust particles as well as trap the allergens effectively.
Don't buy this if
You're looking for multiple surface cleaners that will collect larger debris. This handheld vacuum cleaner performs efficiently only on upholstery items and collects small and fine dirt on the surface.
3. Bissell Pet Hair Eraser Lithium Ion Cordless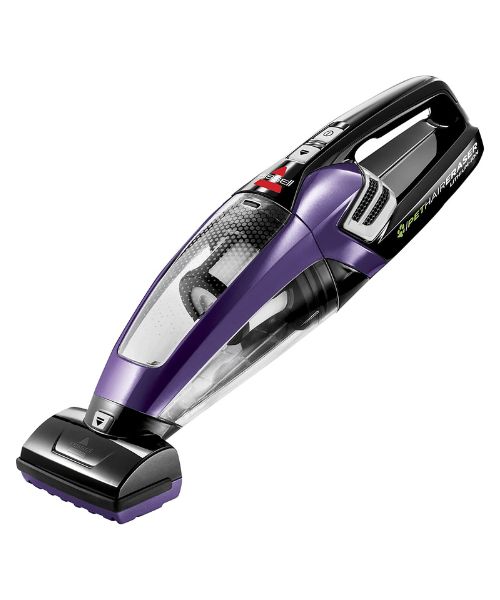 Specs:
Dimension: 16″L x 4.5″W x 5″H
Dust Cup Capacity: 0.7 Litres
Power Source: Battery
Item Weight: 3 lbs.
Vacuum Type: Hand-handled
Filter Type: Triple-Level Filtration
Pros
Effectively eliminates embedded dirt and pet hair
Larger dust cup capacity
Tripple-level filtration system
Longer battery life
Easy to roll over couches and its tight spaces
Included Attachments: Brush, Battery, Crevice tool
Cons
Dust cup cleaning can be tricky
Bissell is a 140-year-old vacuum cleaner brand that provides profound cleaning solutions that put your regular life at ease. The Bissell Pet Hair Eraser Lithium-Ion Cordless Vac is versatile and it cleans effectively without creating much noise!
It's manufactured with adequate suction power, which can remove pet hair, crumbs, and other debris even from the edges of your couches. Unlike the Shark WANDVAC, the Bissell Pet Hair Eraser works well on multiple surfaces, including hardwood and carpets.
While testing this vac, we found it did well on the couch; no attachment gets loosened or falls while using, thanks to its clip-on system, which is designed to hold the attachment without creating any trouble. Besides, this best vacuum cleaner for couches features a larger dust cup and triple-level filtration system, so you can complete effective cleaning every time.
Buy this if
You need a low-volume handheld vacuum cleaner for multiple surfaces, including upholstery, carpet, and hard floors.
Don't buy this is
If you're looking for a bagless vacuum cleaner to avoid the hassle of dust cup cleaning.
4. Bissell 3624 Spot Clean
Specs:
Dimension: 14″L x 10″W x 14″H
Dust Cup Capacity: 6.2 lbs
Power Source: Plug-in
Item Weight: 13.25 lbs
Vacuum Type: Corded
Filter Type:
Pros
Effectively cleans spots and stains
Suitable for multiple surfaces, including couches, carpet, stairs, and auto interiors
Easily clean hard-to-clean areas
Features superior suction capacity
Able to professional-like deep clean
Included Attachments and Solutions- stair tool, Tough Stain Tool, Cleaning Solution
Cons
Heavier than handheld models
The Bissell SpotClean Pro Portable vacuum cleaner is one of the most powerful spot and stain removers. This model comes with impressive attachments, including a 6″ Stair Tool, a 3″ Tough Stain Tool, and a cleaning solution- a trial-size bottle of Pro Max clean with a protective formula. This unit features the best combination to vacuum your household, including couches.
This professional vacuum cleaner has a larger dust cup capacity which means it won't interrupt your cleaning tasks in the middle. Besides, it boasts superior suction; with the power and additional attachments, it easily extracts embedded dirt and stains from couches and their edges, carpets, and other hard-to-reach areas of your home.
Buy this if
You need a professional vacuum cleaner for your couch. This versatile cleaning appliance is not limited to cleaning your couch only.
Don't buy this is
If you're on a budget and looking for a lightweight handheld vacuum cleaner.
5. BLACK+DECKER Furbuster Handheld Vacuum
Specs:
Dimension: 6.3″L x 3.15″W x 2.56″H
Dust Cup Capacity: 750 Milliliters
Power Source: Battery
Item Weight: 2.6 lbs.
Vacuum Type: Handheld
Filter Type:
Pros
Lightweight cordless vac
Easy to operate
Multiple power settings
Decent dust cup capacity
Effectively collect pet hairs from furniture and stairs
Cons
Can be louder
Take a long time to get fully charged
BLACK+DECKER Furbuster Handheld Vacuum will relieve you from the mess of your pet hair throughout the house. Our lab testers say that this best vacuum for couches is not limited to picking up hairs only; its rubber strands head attachment can effectively collect other debris from hard-to-reach areas.
In addition, you can switch between its two power modes while vacuuming high-traffic areas in your home; while vacuuming couches, activate its lower setting. Along with its adequate suction power, this cordless vacuum is lightweight, only 2.6 lbs. You can roll over this vacuum and move it from one place to another without any hassle.
Buy this if
You have a larger couch, and you own fluffy pet animals at your home. This vacuum cleaner is good to go for cleaning larger areas.
Don't buy this is
If you prefer a cordless vacuum cleaner that would get fully charged within a short time, this typical model takes almost four hours to get charged fully and runs only 30 min (which is a standard runtime, though).
Related Post: 7 Best Vacuum For Concrete Floors
Things To Consider To Find The Best Vacuum For Couches
Vacuum Type
You'll find various models of vacuum cleaners available in the market, including hand-handled, stick, canister, and upright. Some of them are specially made for Upholstery or Couches. However, our experts recommend that hand-handled or stick vacs are more convenient for couch cleaning since these types of vacuum cleaners are lightweight, easy to operate, and feature adjustable suction power.
If you choose a cordless model, then check out its battery life; most cordless vacuum's runtime revolves around 30 minutes. However, expensive models may offer up to one hour of battery life, whereas they can be reduced to 15 minutes!
Should be Lightweight
Lightweight yet durable vacuum cleaners are easy to use; if you need to move from one place to another, then a lightweight vacuum cleaner can cut down your hassle. Besides, a lightweight vacuum cleaner also benefits the user with back pain issues. Usually, a traditional upright vacuum cleaner weighs up to 20 lbs. whereas hand-handled or stick vacs are lighter and can be less than 7 lbs!
Ease of Use
Check out if the vacuum cleaner you're going to purchase for upholstery can be carried in all the spaces, especially if you have a corded vacuum cleaner; a shorter cord or vacuum hose may not help you reach all the spaces needed to clean up. If the hose length or cord length seems insufficient, then look for the extension wand that should be included with the attachments.
Adjustable suction Power
While choosing a good quality couch vacuum cleaner, check out the suction power. You should remember that you don't need any high-end powerful vacuum cleaner for couch cleaning. Instead, it's better to have a vacuum cleaner featuring adjustable suction power so you can use the lower settings to avoid wear and tear on your couch material.
Dust cup
With a good filtration system (our experts recommend HEPA filter is the best one), a vacuum dust cup can be bagged or bagless. Bagged models require replacements once they are full of dust. On the other hand, bagless models are washable; you don't have to go to the shop every now and then to replace the dust bag.
However, our experts recommend bagged vacuum cleaners, especially if you are prone to allergies or asthma. When you dispose of a bagless vacuum cleaner, it will expose you to allergens that can trigger your asthma.
Necessary Attachments
Couch vacuum cleaners should come up with the necessary tools and attachments that are required for proper clean-up of all the areas, including corners and edges. Otherwise, you have to purchase them separately. Here are some common and essential attachments you'll need to clean your couches:
Upholstery tool
Crevice tool
Extension wands
Turbo or power brush
Pet hair removal tool
Importance of Vacuuming Sofa
Sofas are one of the most trafficked places at home where we lounge and enjoy snacks; pets are also fond of these cushioned spaces and like to sleep or play around. However, when it comes to vacuuming the sofa, we often fiddle away, and the surface gradually becomes the ground for germs.
Due to regular usage, many visible and invisible germs, dust particles, dander, crumbs, and all these accumulate on your sofa; the dust can also get trapped deep inside the cushion. Regular vacuuming can protect your sofa from accumulated dust and stains and keep your furniture spick and span. Here is our take on the importance of vacuuming the sofa:
Removes Accumulated Dust and Allergens
When you use the vacuum crevice tool to clean up the sofa, its corners, and hard-to-reach areas, it extracts all the dust residuals and allergens from the surface. As a result, no particles will be left that might trigger your itchy allergy.
Increases Longevity of Your Sofa
Regular vacuuming of the surface of your sofa and deep or professional cleaning every six months can increase the self-life of your furniture.
Makes Your Living Environment Cozy
If you vacuum your sofa and other furniture on a regular basis, you can delay hiring professional cleaners to deep clean your sofa. It will make your sofa as shiny as it was before.
Final Words
Couches might seem clean even though thousands of invisible harmful elements can accumulate on the ground of the couch. Besides, kids and pets make a mess around them regularly. And not to mention our everyday use; all of these gradually make the couch filthy, and we only get stuck when it requires a deep clean or an entire replacement. Instead, if you regularly care for and vacuum couches and other furniture, they will last for a longer time. Choosing the best vacuum can help you the most in to take care of your couches.
Best Vacuum For Couches: FAQ
Is it OK to vacuum a couch?  
Yes, it's absolutely OK to vacuum a couch. In fact, vacuuming the couch is the best way to keep it clean and increase longevity.   
How Often Should You Vacuum Couch?  
You should vacuum your couch at least once a week.   
Can I clean my couch with a shop vac?  
Yes, you can deep clean your couch with a shop vac. After cleaning, you can also use a shop vac to extract water from the couch so it can dry as quickly as possible.