We stow cars and other valuables in the garage, and that's why opting for the best security camera is crucial. However, not every security device has all the bells and whistles to secure a garage like the expert-scrutinized 'best garage security cameras.'
To find out the best security cameras for your garage, we turned to our experts. They told us a camera with better footage quality, outstanding night visibility, and motion detection like this Arlo Pro 4 is best for indoor and outdoor use. Whereas GALAYOU 2K is an affordable alternative at $29 only! However, if you need a garage security camera for indoor usage, the myQ Garage Security Camera does the best job. To know more about these hawk-eye security cameras, scroll down for a detailed review of the 7 best security cameras for the garage and secure your property.
List Of The Best Garage Security Camera
1. Arlo Pro 4
Best Overall
Specs:
Video Quality: 2K
Night Vision: Color and build-in Spotlight
Weather Resistance: Yes
Motion Detection: Human, animal, car, and package
Two-Way Audio: Yes
Storage: Cloud
Pros
Excellent 2k video quality
Colored and infrared night vision
Bright motion-activated Spotlight
Auto zoom and automated tracking
Affordable cloud storage
Weather resistant
Cons
No free video storage
Expensive camera and accessories
Arlo Pro 4 is the overall performer to secure your garage with high-quality footage and a 160-degree wider view so you can keep your eyes on every corner of your garage in detail. It features color and a built-in spotlight for brighter night-time surveillance up to 25 ft. On top of it, its built-in Spotlight activates automatically when any motion is detected. The Arlo Pro 4 has a great weather-resistant capacity; it works well during extreme weather, from -20 to 45-degree temperatures. With a monthly subscription, this security camera can record continuous motion for up to five minutes.
Buy this if: You want to secure the outdoors of your home and garage area with great footage quality, clearer vision, and wider night-time surveillance.
Don't buy this if: You prefer a local SD card facility. Arlo Pro 4 doesn't have an SD card slot, so you have to rely on their Cloud subscription.
2. GALAYOU 2K Light Bulb Security Cameras
Best Auto-Tracking
Specs:
Video Quality: 2K
Night Vision: Color, Infrared, floodlight
Weather Resistance: non-waterproof
Motion Detection: Yes
Auto-Tracking: Yes
Storage: TF card up to 128GB (not included)
Pros
Decent full HD quality video
Brighter and secured night visibility
360-degree wider view
Smart features- two-way talk
Storage up to 128 GB, TF card
Cons
The camera works only on 2.4 GHZ Wi-Fi and not on 5 GHZ
Not waterproof
GALAYOU 2K Light Bulb is highly affordable, only $29, but it delivers stellar resolution and detects motion by its super-efficient auto-tracking capacity. Its bulb-shaped compact design provides a wider view (360-degree rotation capacity). The 6 floodlights and 6 IR lights create brighter visibility at dark. On top of that, the camera is equipped with a built-in mic and speaker so you can communicate who's nearby the camera.
The camera can be integrated with voice commands, so it offers you hand-free use. This garage security camera detects the moving object and follows, which allows you to monitor if there's an intruder, furry creature, or anyone else near your garage. Since the camera is not waterproof, we recommend not using it outside without a secured installation.
Buy this if: You want a garage security camera that offers auto-tracking features but at a cheaper rate than the other cameras on the market.
Don't buy this if: You need to set this camera in difficult weather conditions (too rainy or heavy snowfall). Since the camera is not waterproof, it won't work effectively during harsh weather.
3. myQ Smart Garage HD Camera
Best Garage Security Indoor
Specs:
Video Quality: 1080p
Weather Resistance: -4 to 122 degrees Fahrenheit
Motion Detection: Human
Two-Way Audio: Yes
Storage: Cloud
Pros
Standard camera feed
Specially built for garage security
Covers a wider view of monitoring the garage area
Garage door can be opened via the door sensor
Operates well in harsh weather
Very easy to install
Cons
Cloud subscription is mandatory
MyQ Smart Garage Security Camera is very convenient, especially for garage indoor. It's best for your garage indoors since the camera can cover the entire garage area inside. Installing this smart security camera is super easy with its magnetic mounting base; you can also use adhesive to mount the camera properly, but it's optional. Along with its full-HD camera feed (1080p) and wider view (140-degree angle), the camera is integrated with a smart door sensor by which you can open/close your garage door via your smartphone. Its two-way audio is very handy for welcoming your visitors.
Buy this if: You need an indoor garage security camera with Smart features at a very reasonable price, less than $100.
Don't buy this if: You want an outdoor security camera to keep your eyes on the surroundings of your garage area. Its magnetic or adhesive installation might be vulnerable and easy to damage by the burglar.
4. Arlo Pro 3 Floodlight Camera
Best Floodlight Security Camera For Night Surveillance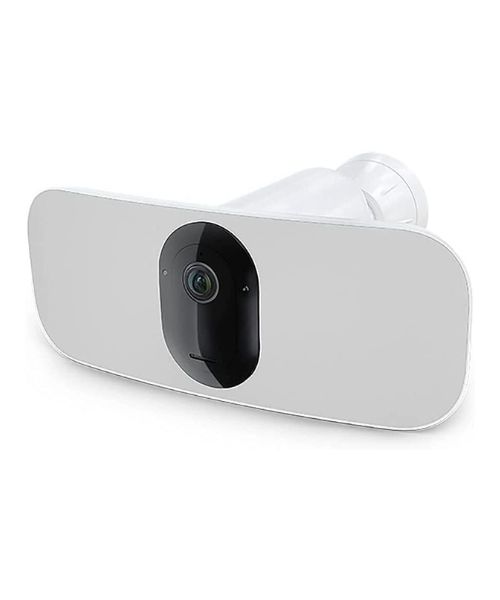 Specs:
Video Quality: 2K
Night Vision: Color
Weather Resistance: IP65
Motion Detection: Human, animal, and car packages
Two-Way Audio: Yes
Storage: Cloud
Pros
2k HD video footage quality
High-range night vision
Brighter floodlights
Both for indoor and outdoor
Effectively detects motion
Instantly send alert
Cons
Cloud subscription is a must
The Arlo Pro 3 camera boasts 2k footage quality, a 160-degree diagonal field view, and an impressive floodlight that enhances the security of your garage during the night. Just like the Arlo Pro 4, it's a battery-powered wireless device. Arlo Pro 3 offers premium features, including cellular and battery backup, smoke detection, smart activity zones, and more that come along with its monthly Arlo Secure Plan. However, if you don't need this Secure plan, you can still enjoy high-resolution live streaming and two-way communication, get alerts based on motion detection, and use the camera app on your smartphone.
Buy this if: You need the best garage security camera with a brighter floodlight for secured night-time surveillance.
Don't buy this if: You want a security camera with a local storage facility. Instead, you can go for the WYZE Cam v3, as it offers both local storage and cloud subscription facilities.
5. WYZE Cam V3
Best Affordable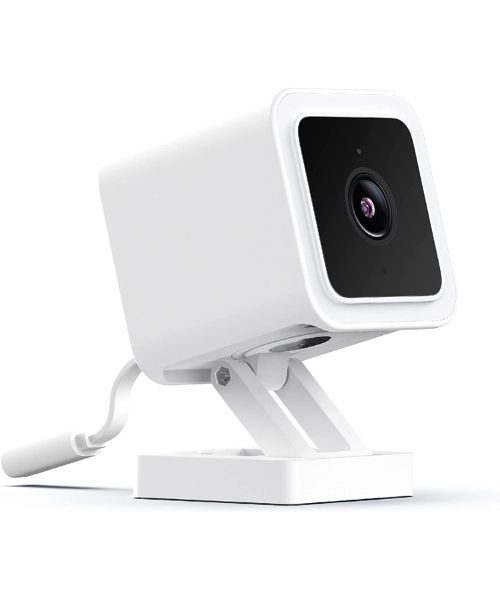 Specs:
Video Quality: 1080p
Night Vision: Color
Weather Resistance: IP65
Motion Detection: Yes
Two-way audio: Yes
Storage: Cloud, SD card up to 32 GB
Pros
Decent full HD quality video
Work both indoors and outdoor
Multiple storage facilities
Instantly detects movement and notifies accordingly
Clear two-way audible communication
Ideal weather-resistant capacity (water and dust)
Cons
Some features might need a subscription
Wyze Cam v3 is a very affordable (only $35) outdoor security camera with full HD resolution and brighter night vision. This camera is great both for indoor and outdoor security; for outdoor usage, you have to purchase an outdoor power adapter. Through its two-way audio feature, you can communicate with the person near the camera. Besides, Wyze Cam v3 is compatible with Amazon Alexa and Google Assistant, so the camera can comply with your commands.
Buy this if: You need multiple security cameras at a cheap price rate. If your garage area is larger and has multiple outdoors, you might need more than one security camera to get full coverage of your surroundings.
Don't buy this if: You need a cordless camera. Since the Wyze Cam v3 is corded, mounting or relocating them might be a hassle for you.
6. Google Nest Cam Indoor
Best Indoor Security Camera For Home And Garage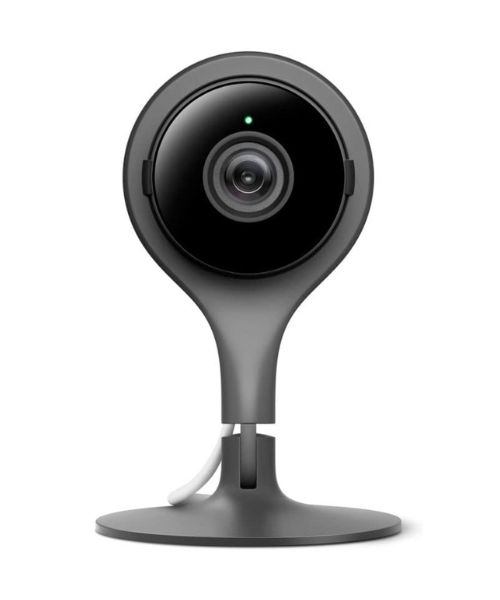 Specs:
Video Quality: 1080p
Night Vision: Infrared
Motion Detection: Yes
Two-Way Audio: Yes
Storage: Cloud Subscription (with one-month free trial)
Pros
1080p HD video resolution
Night vision with eight infrared LED
Tilt forward and backward and rotate 360 degrees
Storing videos needs a cloud storage subscription
Google Nest cam is a wired indoor security camera that allows you to easily install and enjoy live streaming wherever you want. With a video feed in 1080p HD resolution and a 135-degree field view, it's best for your kid's room or any indoor garage premises. The night vision of the camera is secured with the eight infrared LED, which provides clear footage on the darkest nights. The Google Nest Cam will alert you instantly if there is any rustling in the bush. The nest security cam is best for garages, dedicated explicitly to the indoors, so it is not as weather-resistant as Arlo Pro cameras. Besides, the camera doesn't support an SD card, so you will need to subscribe to cloud storage for storing the records.
Buy this if: You specifically need an indoor security camera for your garage or for your home. You can view the live stream from anywhere, 24/7.
Don't buy this if: You're looking for a camera with good weather-resistant capacity. This camera is designed for indoor usage, so you won't get the adequate weather-resistance capacity required for harsh weather.
7. Defender PhoenixM2
Best Offline Security Camera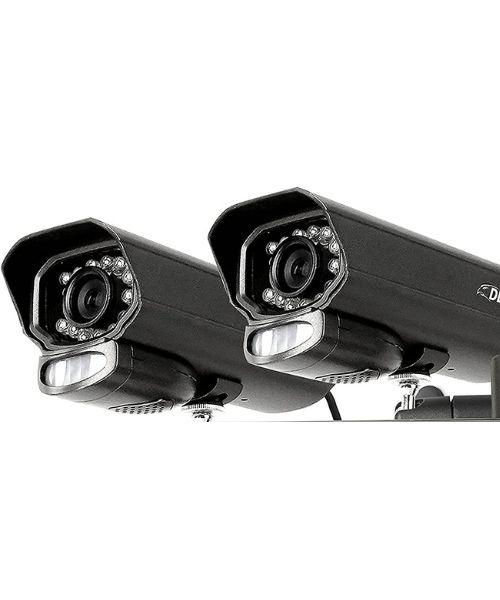 Specs:
Video Quality: 480p
Night Vision: Infrared
Weather Resistance: IP65
Motion Detection: Yes
Two-Way Audio: Yes
Storage: Up to 256GB (32GB card included)
Pros
No Internet or smartphone needed
Larger and clear visibility
Two-way communication enabled
LED monitor included
No fees or subscriptions are required for storage
Cons
Not for remote viewing
Lower camera resolution
Defender PHOENIXM2 is a plug-in security garage camera that covers up to 450ft during day time and up to 50 ft when it's dark. It's more likely the traditional surveillance system, but it won't load you with tangling cords. This best offline security camera doesn't require your Internet connection or smartphone device, and it comes up with a 7-inch LED monitoring display for viewing up to 4 cameras at a time. Besides, the camera features two-way communication, but it might not be effective if the area is too much noisy. While observing its storage capacity, we found that the camera includes 32GB SD card in the box, but you can use up to 256GB (sold separately) if needed. And yes, there is no Cloud Subscription for this Defender PHOENIXM2.
Buy this if: You don't need to view the camera remotely. It'll record based on its motion-detection capacity and store the recordings on an SD card so you can view them later on.
Don't buy this if: You want an advanced digital camera to secure your garage area. Defender PHOENIXM2 has the lowest resolution camera in this list that might not match your preference.
How To Choose A Garage Security Camera
Footage Quality
While buying the best garage security camera, it's better to check out the camera's resolution. Higher-resolution cameras allow you to monitor the actions clearly and easily. That's why our experts recommend FHD 1080p resolution or above when choosing a security camera for your garage.
See Also: 5MP vs 8MP Security Camera
Why is Footage Quality Important?
Footage quality should be full-HD 1080p or above. Low-quality or blurry camera sensors won't provide the expected visibility of your garage area, especially during the nighttime. Besides, lower footage won't be clear while zooming.
Clearer Night Vision
While looking for an outdoor garage security camera, check out the features such as a built-in spotlight, full color night vision, or infrared LED lights to ensure enhanced nighttime surveillance.
Why Is Night Visibility Important?
Night vision is a very significant feature for an outdoor security camera, especially when you're looking for the best garage security camera; without clearer night visibility, you won't be able to secure your garage area when it is dark.
Wide Angle
Figure out the garage area that you need to cover so you can properly determine the camera's field view capacity. Usually, a 60-degree wide-angle view is enough for monitoring a small garage. If you have a larger garage area, then you might need multiple security cameras to enhance security or a camera with a wider angle view to cover the required area.
Why Should You Consider a Wider Viewing Angle?
The wider view your camera has, the more area you can monitor. The wider angle the camera covers is better. Usually, security cameras come with 60-degree up to 360-degree viewing angles with rotation capacity.
Weather Resistance
While purchasing the best garage security camera, especially if you are planning to use it outdoors, check out its IP rating. It will tell you how much the camera is capable of working against water or dust.
What is the Ideal IP Rating?
IP 65/66 is recommended as an ideal weather-resistant capacity for outdoor garage security cameras; it indicates that the camera can withstand high-pressure water splash and dust in it.
Verdict
Many of us don't want to compromise when it comes to securing our homes and garage. To secure the indoor and outdoor areas of the garage, choosing a good quality garage security camera can ensure the best protection for cars and other valuables. We have listed security cameras for every need, and hope this list helps you find the ones you need.