Although Tineco is a relatively new brand of vacuum cleaners, it has quickly gained popularity for its smart cordless vacuums. Unlike traditional vacuum cleaners, Tineco doesn't feature a fixed battery, so if you have multiple batteries, you can operate Tineco vacs for a longer duration. There are many more to say about these admirable Tineco vacs, and in this post, we'll discuss why Tineco is a good vacuum. Let's start!
Is Tineco A Good Vacuum?
Yes, Tineco vacuums are good, and they are technologically more advanced. These vacuum cleaners offer powerful suction, convenient features, and good value for their price range. However, you can choose their budget-friendly models as well as high-end premium options based on your convenience.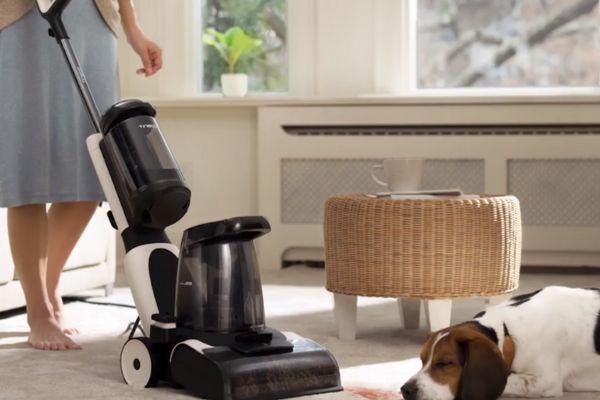 Tineco Brand Overview
Tineco specializes in producing innovative and high-performance cordless vacuum cleaners that can collect fine particles as well as clean wet messes. These vacuum cleaners are designed to provide powerful suction and offer advanced features, such as smart sensors, long battery life, and multiple cleaning tools and modes for efficient household cleanup. Tineco's vacuums are also known for their sleek and modern design, user-friendly options, and easy maintenance. Overall, Tineco offers a range of top-quality cordless vacuums that will keep your home clean and fresh.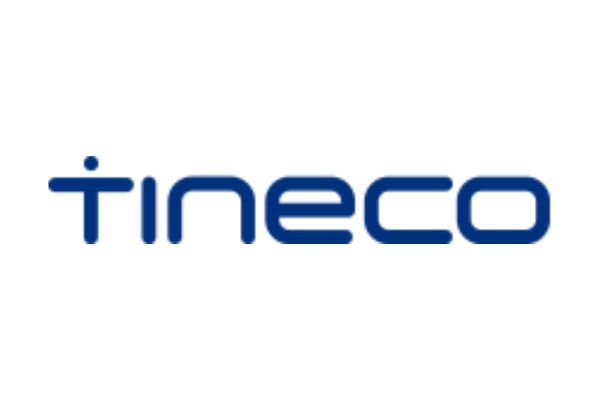 Best Tineco Vacuum: Tineco A11 Hero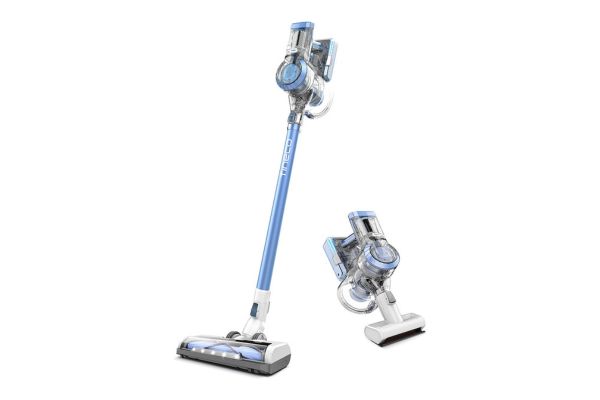 Tineco A11 Hero sticks vacuum cleaner is one of the best models that have the powerful suction capacity to collect fine dirt quickly. Its 3-stage suction power modes will allow you to clean different types of fine dirt, including pet hair, debris, and cereal from carpet, upholstery, stairs, edges, and hard-to-reach areas. Besides, this vacuum features a very effective 4-stage HEPA filtration system that completely seals the trapped particles inside.
Like other Tineco vacuum cleaners, the A11 Hero operates for a long time. This top-of-the-line vacuum is also loaded with accessories, including a 2-in-1 dusting brush, multiple cleaning tools, a pre-filter, and more for added convenience. Apart from that, this lightweight A11 Hero became very convenient to use both as a stick and as a handheld vac.
See Also: Best Tineco Vacuum To Clean Up Your Household With Ease!
Comparison With Its Competitors
Tineco A11 Hero Vs PWRHERO 11
The A11 Hero and PWRHERO 11 are durable, lightweight vacs that keep your household tidy and clean. These vacs can clean hardwood, carpeted floors, and indoor surfaces with similar suction power. However, between Tineco A11 vs PWRHERO 11, the PWRHERO's suction tube is height adjustable. Other than that, they both have ergonomic handlebars, handheld modes that easily move from one surface to another, and clean hard-to-reach areas.
These two cordless vacuum cleaners have equal runtime of up to 40 minutes and a similar dust cup capacity of 0.6L. Besides, they feature four-stage HEPA filtration systems that trap pollens and dust of 0.3 microns. One thing to note is that neither vac feature LED displays; rather, they have indicators to show the battery status while charging and vacuuming. The only significant difference between Tineco A11 HERO vs PWRHERO 11 is that the A11 comes with more accessories than the PWRHERO one.
Buy A11 HERO if you need a cordless vacuum cleaner that includes more cleaning accessories for effective cleanup.
Buy PWRHERO 11 if you need a vacuum cleaner with suction height adjustability that is handy while cleaning hard floors, carpets, or other surfaces.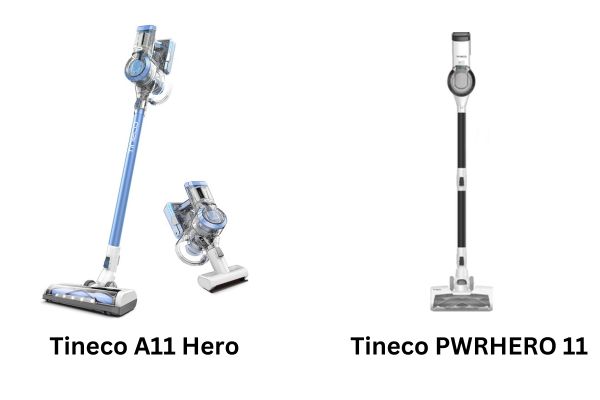 Tineco A11 Hero Vs Dyson V8
Tineco A11 HERO gives tough competition to the Dyson V8 even though the A11 HERO is more affordable than the Dyson. Both vacuum cleaners are cordless and can thoroughly clean your home for 40 minutes at a single charge. Dyson V8 performs admirably, especially if you have pet animals in your home. Its latest hair-detangling technology enables it to quickly remove stuck-on long hair and pet hair across your home. On the other hand, A11 HERO can also clean different types of fine particles, like pollen, dust, pet food, cereals, etc.
Both Dyson V8 and A11 can be converted into handled vacs to clean hard-to-reach areas. Their advanced HEPA filtration system is capable of trapping and fully sealing particles of 0.3 microns. Besides, they include several cleaning accessories so you can do cleaning tasks with ease. However, A11 HERO's dust cup capacity is slightly better than the Dyson V8.
Buy Tineco A11 for collecting fine dirt from multiple surfaces, including carpet, hard floors, stairs, and other indoor surfaces.
See Also: Can You Vacuum Glass With A Dyson
Buy Dyson V8 that can also remove fine particles from multiple surfaces. However, it's a better choice for extracting pet hair.
Final Thought
Tineco produces good quality vacuum cleaners ranging from affordable to premium models, and most of these vacs are cordless and very convenient to use. If you want to purchase a smart vacuum cleaner that features a longer run time, an advanced sensor with LED display, auto-suction adjusting capacity, and a better filtration system with a larger dust cup capacity, a Tineco vacuum is really worth your bucks! So don't step back thinking about whether Tineco is a good vacuum or not.