The battle of the dust bunnies, a duel with debris, and a showdown with crumbs– all are taking place on your tile floors, and you may hunch for hours to clean those pesky particles manually. The idea of vacuuming the tile floor seems to be a smarter option. In this post, we'll discuss if a vacuum cleaner is the best cleaning tool for your sleek tiles or if it ends up clogging, scattering more chaos than cleaning. As we delve deep into the topic, you'll also get to know about the factors that you should consider before vacuuming tiles and floors. Now, it's cleaning o'clock! Let's find out if your vacuum cleaner will shine or sputter.
Can You Vacuum Tile Floors?
Yes, you can vacuum tile floors. Vacuuming tile floors is a smart move as it eases up the hurdles of manual cleaning. Just ensure your vacuum is compatible with hard surfaces. To clean up your tile floors, you don't need super higher suction power that ultimately can nothing but damage your floor surface. What else do you need to consider while vacuuming tile floors? Let's see!  
Factors to Consider Before Vacuuming Tile Floors
Tile Floor Compatibility
Ensure your vacuum is designed for tile floors or hard floor surfaces. Check out the brush types, whether it's compatible with the soft brush roll or tile-specific nozzles, to ensure scratches and damage-free cleaning sessions and preserve the gleaming aesthetics of your tiles.
Adjustable Suction Power
A vacuum with adjustable suction settings is a gem. Such vacuum cleaners with adjustable suction are tailored for multiple surface cleaning so that you can clean tile floors as well as carpets, rugged areas, upholstery, and other surfaces.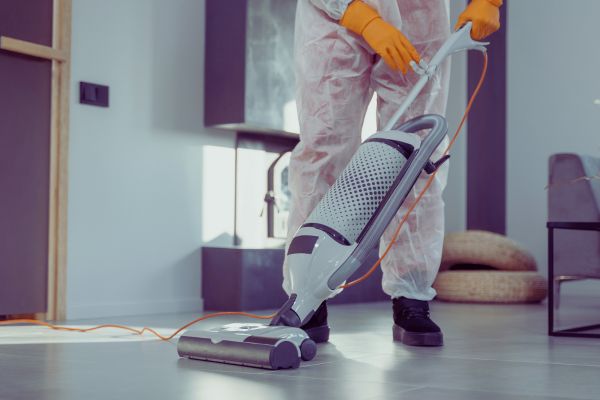 Stay Away from Beater Bar
Vacuum cleaners with beater bars are intended for carpets, extracting debris from the deep pile. The rotating feature of beater bars can potentially scratch your tiles and scatter debris. Instead, look for adjustable floor heads and tile-friendly attachments to upkeep your floor surface.  
How To Vacuum Tile Floors
Regardless of being a corded or cordless model, you can easily vacuum the tile floors through these easy-to-follow steps:
Step 1: Ready the Floor Surface
Remove any larger obstacles or small objects, such as socks, wire, small toys, and similar items, from the floor for vacuuming without any interruption.
Step 2: Choose the Right Attachment
Attach a soft bristle brush or a tile-specific nozzle to the floor head of your vacuum. It'll pick up dirt from the floor surface without leaving any scratches or marks in it. In some cases, you can use the robot vacuum cleaner for tile floor.
Step 3: Adjust Suction Power
If your vacuum has adjustable suction, then set it to a lower or medium level. Usually, high suction is not necessary for vacuuming tile floors as it can potentially damage the tiles.
Step 4: Start Vacuuming
Begin from a corner of the room and gradually move towards the exit. Thus, it will help you stay organized and clean your surface in a convenient way. Move back and forth and pass twice so that no residual is left. Also, use crevice tools or edge attachments to clean along baseboards and edges to clean accumulated dust and particles.
Step 5: Clean Spot and Stains
For stubborn stains, pause and spot clean manually. You can also use a wet and dry vacuum cleaner. Don't use any abrasive chemicals like oil-based cleaning solutions, ammonia, or bleach-based cleaning solution that could harm your tile floors.
Step 6: Clean the Vacuum
Once you're done vacuuming tile floors, clean the dustbin and filter. It will prevent dirt buildup inside the machine and keep it unclogged so that you can get it ready for your next cleaning sessions.  
What Is The Best Way To Clean A Tile Floor?
Vacuuming is more convenient for tile floor cleaning as it's timesaving, dynamic, and delivers a hassle-free and effective cleaning. Manual cleaning methods, like sweeping and mopping, often kick the dust back into the air or leave pesky particles and require drying time. Unlike those traditional cleaning methods, vacuuming traps debris directly into the machine and minimizes airborne particles and allergens with minimal effort. Wet and dry vacs eliminate moisture concerns, keeping your tile floors spic and span. Moreover, vacuum attachments like tile-friendly soft brushes ensure gentle yet thorough cleaning.   
Final Words
Vacuuming tile floors is an easier and hassle-free option for keeping your floor surface spotless and gleaming. As a brief suggestion, the "Bissell CrossWave Pet Pro" stands out as an excellent option to upkeep your tile floors. Its multi-surface cleaning capabilities, gentle yet adequate suction, and special design for pet fur cleaning make it an ideal choice for keeping your tile floors as clean as crystal.